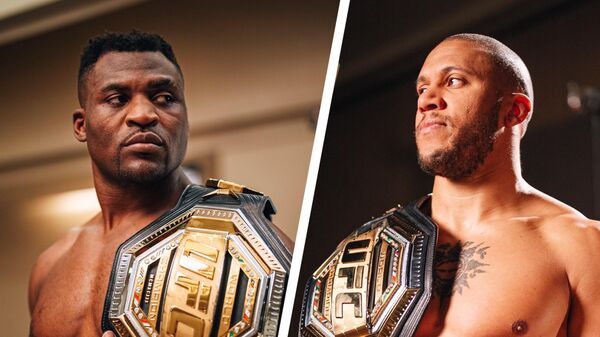 UFC 270, Ngannou vs. Gan: date and time, full card, broadcast, bets, tournament announcement
The first numbered UFC tournament in 2022 has prepared for us two title superfights at once. And "seasoned" this spectacle will be the performance of a Russian fighter with a more than formidable surname Nurmagomedov.
Ngannou — Gan
Heavyweight unification bout
In the early morning of January 23, a fight will take place at the Honda Center in Anaheim (USA), which is already called the "Fight of the Year" in social networks. Everything is on point: heavyweight champion Francis Ngannou, who has been doing everything except mixed martial arts for the past nine months, will finally return to the octagon. After knocking out Stipe Miocic and winning the championship belt, the Predator began to beat out more money from Dana White under the contract, and then even started talking about going into boxing for fabulous checks.
The promotion reacted calmly to the whims of the Frenchman of Cameroonian origin. A temporary belt was introduced, which gave Francis' first defense even more weight … And Ngannou still returned. True, thoughts about leaving the UFC and a superfight according to the rules of boxing with Tyson Fury himself in the head of a frightening knockout did not decrease.
"Fury and I can fight in 2023. It will be a serious challenge – I will drop bombs on him that he has not faced before. I won't say exactly when we will meet: I still have a contract with the UFC, so I don't know how it all ends… One day this fight will take place and I will not only come to boxing from another sport, but I will test myself in a duel with one of the best, if not the best boxer in history!" Ngannou promised in an interview with Lowkick MMA.
The future thunderstorm of boxing will have to fight with a former sparring partner, undefeated Frenchman Cyril Gan. Thus, the interim champion, who dealt with Sasha Volkov and Derrick Lewis last summer. Now the goal of the silent good man has become absolute gold, which the "Good Guy" is really capable of taking: his technique and footwork, which is compared to the fluttering of a butterfly, will cause a lot of problems for Ngannou.
The main thing is not to run into the Predator's "sledgehammer" – without a zero in the "defeat" column and gold at the waist, only Cyril, who is gaining popularity, will quickly forget about the superfight with Jon Jones.
View this post on Instagram
By the way, Francis' ex-coach, Cyril's current mentor Fernando Lopez will play a special role in the confrontation between Ngannou and Gan. The specialist cannot forgive the former student for leaving the MMA Factory hall, which is why in almost every interview he speaks harshly about the human qualities of the Predator.
For Lopez, Sunday's fight will be a great opportunity to get even with Ngannou and make Francis regret leaving the Paris hall.
"Why should I be jealous of Francis' success when I have the most perfect heavyweight of all time? I'm 100% sure that Cyril is a new and improved version of Ngannou. Remember the Terminator? The first one was big and killed people, and you could finish him with shots But then there was a new version that was made of liquid metal and just changed its shape when it was shot at. The new terminator was less powerful, but had more guns and had more capabilities. This is how I see Gan and Ngannu, "quotes the words Sportskeeda specialist.
Odds: experts slightly prefer Ghana – 1.8 vs. 1.9.
View this post on Instagram
Moreno – Figueredo III
The co-main event will appeal to fans of trilogies who have not yet forgotten about the July war between Conor McGregor and Dustin Poirier. Now the events will unfold in the flyweight division: in 2019, the UFC wanted to eliminate the weight of the "flyers", and by 2022, the flyweight division can boast two title notches of amateur constructors Brandon Moren with Deiveson "God of War" Figueredo, who will share the octagon in Anaheim already in third time.
"I'll prove at the weekend that I'm a really dangerous fighter. I'll give Brandon the first knockout loss of his career. Joseph Benavidez has never lost on the ground, but I said before the fight that I would make him surrender. belt. No doubt, "- quotes MMA Junkie Figueredo, who lost the belt in the spring.
View this post on Instagram
And if Moreno loses, then the promotion will have a big problem. 1-1 wins and a draw will push the fans to the idea of ​​a fourth (title!) fight between the Mexican and the Brazilian. An end to the confrontation will not be put, and who, if not sports fans, will be annoyed because of beautiful unfinished stories?
Odds: The first Mexican UFC champion opened as a favorite -1.5 vs. 2.4.
View this post on Instagram
Stamenn — Nurmagomedov
The UFC 270 domestic MMA fans will also be pleased with a duel with the participation of a Russian. Said Nurmagomedov (3-1 in White's company), who has not fought since October 2020, will have the toughest fight of his career against the strong American Cody Stamenn. At the same time, Khabib's namesake opened up to this fight as a favorite (and after all, Stamann is a stylistically uncomfortable opponent, plus more than a year of downtime), and, without a sensation, Said will seriously strengthen his position in the lightest division rich in names.
Odds: 1.4 for the representative of Russia with 2.6 for the opponent Said.
View this post on Instagram
Full list of UFC 270 fights
—

Francis Ngannou – Cyril Gun

—

Brandon Moreno – Deiveson Figueredo

—

Michel Pereira – Andre Fialho

—

Cody Stamann – Said Nurmagomedov

—

Rodolfo Vieira – Wellington Thurman.
—

Raoni Barcelos – Victor Henry

—

Ilia Topuria – Charles Jordan

—

Jack Della – Pat Rodriguez

—

Tony Gravely – Simon Oliveira

—

Michael Morales – Trevor Giles

—

Silvana Juarez – Vanessa Demopoulos;

—

Matt Frevola – Genaro Valdez

—

Kay Hansen – Jasmine Yasadavicius.
View this post on Instagram
Tournament time
The early prelims are scheduled for 02:15 Moscow time, the first fight of the main card will begin at 06:00 Moscow time.
Ngannou and Gan will enter the octagon no earlier than 08:00 Moscow time.
Broadcast
Live streaming will be available on the official UFC Fight Pass service. On public television, the event will be shown by Match TV (broadcast at 04:00 Moscow time).
Bright event promo
.