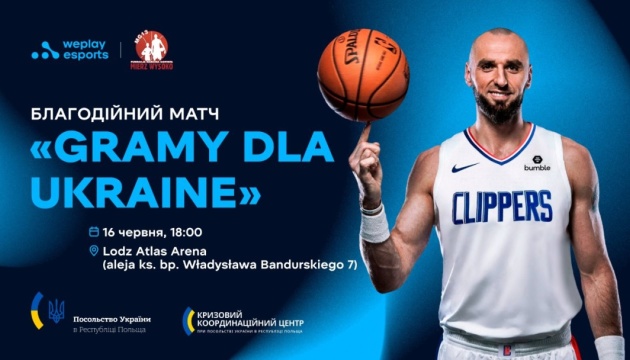 A charity basketball match in support of the Armed Forces of Ukraine will be played in Poland today
At the Lodz Atlas Arena stadium in Lodz (Poland) on Thursday, June 16, a charity basketball game will be held, organized by former National Basketball Association (NBA) Marcin Gortat, an investor in Polska Esportowa Liga.
According to the official website of the Basketball Federation of Ukraine (FBU), all proceeds from ticket sales will be used to purchase food, medicines and first aid kits for the Armed Forces of Ukraine, Ukrinform reports.
The event is organized by the Marcin Gortat Foundation, a charitable foundation created by Polish basketball player Marcin Gortat, who played in the NBA for many years.
"This year's match has a vital purpose – we will play for Ukraine. Only by uniting, we will be able to support the Ukrainians and help them survive. Thus, each visitor gets two things at once – the opportunity to watch a basketball show and help those who need it more," said Marcin Gortat.
Read also: NOC of Slovakia organizes training sessions for Ukrainians ahead of the Olympic Festival
The competition will be held in 4×4 format between the Gortat Team and WOJSKO POLSKIE. The Gortat Team is made up of young and talented athletes run by the Marcin Gortat Foundation. The WOJSKO POLSKIE team will be represented by active servicemen of the Polish army.
The project is implemented under the patronage of the Embassy of Ukraine in the Republic of Poland and the Crisis Coordination Center at the Embassy of Ukraine in the Republic of Poland.
After the match, the Marcin Gortat Foundation will share fundraising reports on the foundation's official channels.
Photo: WePlay Holding.