Artur Beterbiev – Joe Smith. Where to watch the WBC, IBF and WBO light heavyweight title fight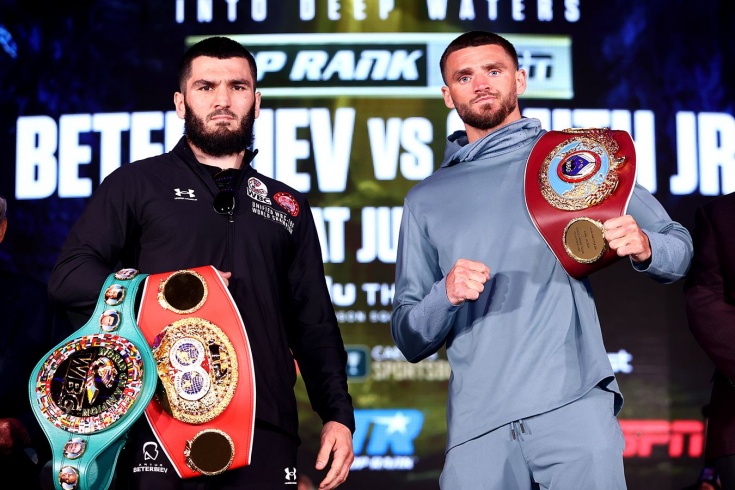 The main thing about the fight, after which all the belts of the division will be in the hands of Russian boxers.
Date and time of the tournament
The fight between Artur Beterbiev and Joe Smith Jr. will take place on the morning of June 19, 2022 Moscow time at the Madison Square Garden Theater in New York. In addition to the main fight, eight more fights will take place as part of the boxing evening.
The main match starts on May 8 at approximately 6:00 Moscow time. "Championship" will conduct a live online broadcast of the fight between Beterbiev and Smith Jr.
Live Stream
The fight will be streamed on ESPN platforms. The issue of showing the fight in Russia remains open.
Full card of the boxing evening Beterbiev – Smith Jr.
Main card
Artur Beterbiev (17-0-0) vs. Joe Smith Jr. (28-3-0) – the WBC, IBF, WBO light heavyweight title is at stake;
Abraham Nova (21-0-0) vs Robeisi Ramirez (9-1-0);
Wendy Toussaint (13-1-0) vs Asina Byfield (15-4-1).
preliminary card
Bruce Carrington (3-0-0) vs Adrian Leiva (3-2-1);
Jahi Tucker (7-0-0) vs Deandre Smith (11-1-0);
Troy Isley (5-0-0) vs. Donte Stubbs (6-5-0);
Jaha Brown (10-0-0) vs. Keane McMahon (7-2-0);
Floyd Diaz (4-0-0) vs Daniid Platonovshi (4-0-0);
Kieran Molluo (1-0-0) vs. Jonathan Ryan Burse (4-5-0)/
Materials about the fight
Expert opinions
Three former world boxing champions among professionals gave the "Championship" exclusive predictions for the upcoming fight.
Former IBF World Champion Eduard Troyanovsky believes that Beterbiev managed to finish the fight ahead of schedule.
"How will the fight with Joe Smith end? The victory of Artur Beterbiev. Another knockout? Yes Yes. Smith – he is also a tough guy, he will also shove, climb forward. And I think Arthur is stronger in this style of boxing. He can take somewhere, but when Smith starts to get tired, Arthur can strike. No, this is boxing and Smith can hit. Why we love boxing, because everything is unpredictable there. But I think it will be like this."
Former undisputed light welterweight world boxing champion Konstantin Tszyu shared his opinion about the upcoming fight between Artur Beterbiev and Joe Smith Jr.
"We all believe in Arthur, but what kind of fight will be depends on the preparation that both boxers have had. I believe that we will win. Does Joe Smith have the keys to beating Beterbiev? Outsmart somehow. It will not work to kill him, but to outwit him – maybe, but also a small chance.
Former WBC world boxing champion Grigory Drozd told how Joe Smith Jr. has a chance to defeat Artur Beterbiev.
"There are chances, he hits very hard on the right. Watch his fight with Dima Bivol, when in the 11th round he hit with the right unexpectedly and shocked very much. Smith has a knockout punch. He's so very tough, so there's a 100% chance."