In Las Vegas (USA) at the T-Mobile Arena stadium, a fight took place between 31-year-old undefeated WBA champion from Russia Dmitry Bivol (19-0, 11 KOs) and the absolute world champion in the second middleweight Mexican Saul Canelo Alvarez ( 57-1-2, 39 KOs).
The fight took place in the light heavyweight category. As part of the 12-round confrontation, the victory went to Bivol, for whom this victory was the 20th in his career. The Russian boxer won by unanimous decision. All three referees gave the victory to Dmitry with a score of 115:113.
In turn, Alvarez suffered the second defeat in his career with 57 wins. His last defeat dates back to 2013, when he lost to Floyd Mayweather Jr. Bivol should receive $2 million for the fight and 30 percent of pay-per-view sales, according to Sporting News. "Championship" has collected the main comments on the beautiful victory of Dmitry.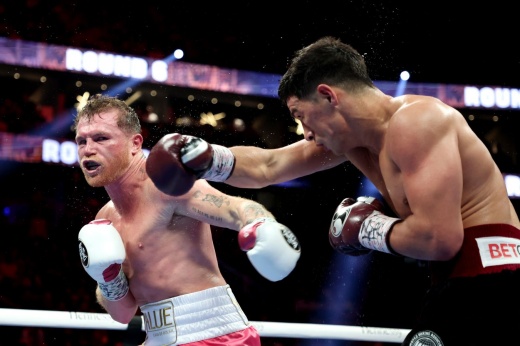 Replayed and destroyed. Russian champion Bivol declassed the vaunted Canelo!
"Proved to everyone that I am the best. Sorry for ruining Canelo's plans."
"Thanks to all the fans who came. Happy Cinco de Mayo to all. I proved to everyone that I am the best. Sorry for ruining Canelo's plans for a third fight with Golovkin. I have kept this belt. Thank you very much, Canelo, for the fight! I have a lot of respect for him and his team, "Dmitry said in an interview after the fight.
"Of course I want a rematch" "A rematch? No problem, let's talk."
Almost the first words of the defeated Alvarez after the end of the fight was a request for revenge with the Russian athlete. "Yes, of course, I want a rematch," Alvarez said in an interview after the fight.
After that, Bivolu was asked about the possibility of a rematch. "Revenge? No problems. Let's discuss it. In general, I wanted this fight without any special conditions. And now I want some conditions for myself. And, of course, this revenge will be. I agreed to this fight because it is first and foremost an opportunity for me. I'm ready for revenge," Bivol replied.
Related news
Dmitry Bivol remains undefeated. He has 20 wins in a row
"Bivol is a great champion and there is no excuse for my performance"
"No, I don't think I did enough to win. You have to accept it, that's boxing. He is a great champion. In boxing, you not only win, you also lose. There is no excuse for my performance. Today I lost.
Light heavyweight punching power is different. I'm not going to make excuses for my defeat. This also happens. You win, you lose, it's a sport. Dmitry had a great fight. He had a great sense of distance. He did enough to win, "Alvarez summed up his defeat.
"Canelo most likely underestimated Bivol. Dimitri really was the best."
The famous Russian boxer, champion of the Olympic Games 2016 Evgeny Tishchenko spoke about the victory of the Russian boxer in the light heavyweight title fight over the Mexican.
"I congratulate Dmitry Bivol on his victory. He really was better today, and it would be very difficult not to give him victory in such a duel, which he showed today. He was better prepared than the last two fights and boxed smart tactically. Canelo, most likely, underestimated Dmitry, because he initially lost both in size, and in weight, and in power.
In principle, it was difficult for him to defeat Bivol stylistically, but due to the fact that Bivol did not fight so brightly in the last two fights, this is probably why they chose him. I'm happy for Bivol. I don't know what will happen and what fights await him. I think that Bivol – Beterbiev is now the coolest fight for Russia if Beterbiev beats Smith, "said Evgeny in an interview with Igor Bragin, editor of the Boxing / MMA section of the Championship.
Related news
Became known referee notes fight Bivol – Alvarez
"The boxer always wins. Canelo relied on his strength."
"A boxer always wins… Canelo is also a boxer, but he relied a lot on his strength," said Devin Haney, an American professional boxer who performs in the second featherweight, lightweight and first welterweight categories.
"Bivol is a goal-oriented boxer. Excellent performance"
"Congratulations, Bivol, you are an excellent purposeful and disciplined fighter. Today was an excellent performance!!!!" — wrote American professional boxer, Mexican origin Ryan Garcia.
"I saw a redhead – kill"
"All right, win! Diman is handsome. If you see a redhead, kill him, "ex-world light heavyweight boxing champion Sergey Kovalev, who was defeated by a knockout from Alvarez in 2019, spoke on social networks.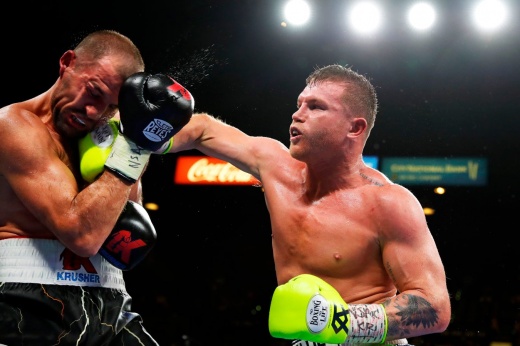 Kovalev's last fight. Canelo used Sergey for imaginary greatness
"They wanted to rob Bivol, but they couldn't"
The judge's notes, although they recorded a unanimous victory for Bivol, caused a mixed reaction in the boxing world. The famous American trainer Teddy Atlas said that the judges deliberately kept the boxers at close range from each other, hoping to give the victory to Alvarez.
"Well, well, they wanted to rob Bivol by keeping him around, but they couldn't. The fight was not so close. If they rob Bivol, then you can finish with this sport, "Atlas wrote.
"I felt that everything would go exactly like this and there would be a victory"
After Bivol's victory over Alvarez, RCC Boxing Promotions CEO German Titov commented on the rematch with the Mexican and unification fights in the light heavyweight division.
"As for revenge, it is written in the contract. But its conditions are not spelled out. So if Canelo wants, then the parties will start negotiations. I think there are high chances that a revenge will still happen.
In the course of the fight, I can say that I immediately told everyone that it would be so. I felt that everything would go exactly like this and there would be a victory.
See Dmitry's title fight in Russia? Everything depends on the world situation. If Beterbiev beats Smith, then, of course, their unification fight should take place in Russia. At the end of this year or the beginning of the next, it would be very good, "the press service of RCC Boxing quoted Titov as saying.
"We know who's number one now"
"Canelo lost. It's all over because he failed to knock out Bivol. We know who is number one now, "wrote undefeated American professional boxer Terence Crawford immediately after the end of the fight.