At the St. Petersburg International Economic Forum (SPIEF), many representatives of Russian sports managed to perform in the first two days. There were, in particular, Russian gymnasts Averina. And one of their statements made fans of the brilliant athletes alert.
"We want to make a show similar to what Alexei Nemov and Svetlana Khorkina are doing. A little different, with the involvement of famous artists. Naturally, after the end of a career, "Dina Averina unexpectedly admitted.
It is clear that Dina and Arina already have a certain concept and a clear idea.
Have they decided to end their sports career?
"We didn't have such shows in Russia"
The idea of ​​sports shows is not new. In gymnastics, Alexei Nemov and Svetlana Khorkina, whom the Averins mentioned, became trendsetters.
The projects "Legends of Sports" and "Ascent" are very similar to each other. Both shows aim to combine all types of gymnastics: artistic, athletic, aerial and acrobatic. Both children and youth teams and recognized stars like Nikita Nagorny, Artur Dalaloyan, Angelina Melnikova, Maria Paseka, Ekaterina Selezneva take part both there and there. And the Averina sisters themselves actively perform in both shows.
"At one time, we, active athletes, very often went to demonstration performances. If you are an athlete with a name, a champion of Europe, the world, the Olympic Games, you are invited to "gymnastic tours" to other countries, Nemov said. – I, Lena Zamolodchikova had such experience, we performed in France, in Germany, in America. We didn't have such shows in our country, and I didn't think it was possible, but at some point my friend and I decided to make the Legends of Sports project. Of course, they were worried, but in the end it really turned out to be very successful and the audience liked it."
"Legends of Sports" and "Ascent" is not just a demonstration of the skills of all gymnasts, it is a collaboration of sports and theatrical component, which is why they look like a mini-performance. Both Khorkina and Nemov set the goal of their projects to popularize sports among children and adults.
Naturally, it takes a lot of time and effort to create such projects. Therefore, it is completely logical that Khorkina and Nemov took up their projects after the end of their careers. Aleksey created "Legends of Sports" in 2016, Svetlana realized "Ascent" five years later.
The uniqueness of Averbukh
Shows with the participation of athletes are also popular in another sport – figure skating. Many well-known coaches and skaters have their own projects: Eteri Tutberidze, Evgeny Plushenko, Tatyana Navka, Irina Slutskaya.
But the main creator of ice shows in Russia is Ilya Averbukh. The silver medalist of the Olympic Games has more than 40 different projects, where he acts not only as a creator and ideological inspirer, but also as a producer and choreographer. In his show, both little-known figure skaters and figure skating stars, and sometimes even representatives of show business, perform.
Interestingly, Averbukh, unlike everyone else, began to create his own shows during his career. The first performance took place at the beginning of the 2000s in Novosibirsk. And after the end of his career in 2002, Ilya founded his own production company and actively went into the creation of ice projects.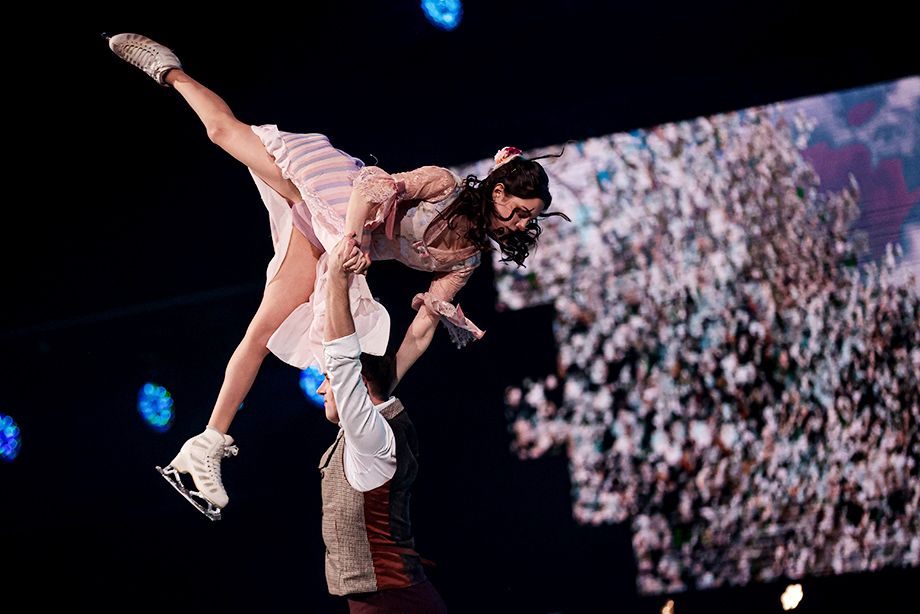 Evgenia Medvedeva and Alexander Enbert
Photo: Dmitry Golubovich, Championship
"I am very good at what Ilya Averbukh does. This is a quality story. In general, I am for any projects that contribute to the popularization of sports. See how figure skating has rejuvenated over the past 10 years, what kind of competition is there!" – Nemov evaluated the merits of a colleague.
Are the Averins ready to quit sports for the sake of the show?
So what about the Averins? Are they ready to quit the sport for the sake of the show?
At the end of the summer, the girls will turn 24 years old. After the disappointing defeat in Tokyo, it was clear that the sisters planned to continue their careers in order to take revenge at the Paris Olympics in 2024. However, now that Russian sports have been ousted from the international arena for an indefinite period, it is unclear whether athletes from Russia will even compete at the Games.
Probably, competitions at the Russian level without a guarantee of getting into the Olympic Games, which are so important for girls, cannot fully suit titled gymnasts. In addition, it is known that Dina and Arina have health problems, because of which it becomes more difficult for them to compete with younger athletes. It seems that the outcome of this story is obvious.
Perhaps that is why the Averins are starting to seriously think about what they will do after their career ends. Although it is worth saying that it is not yet clear when this point will be set, because now the gymnasts continue to perform in tournaments and beat their rivals.