Well, a story happened – Dmitry Bivol made one of the loudest upsets in recent years, dismantling Saul Alvarez on his territory. Beating Canelo is one thing, but convincing the judges is much more difficult. To some extent, Dima is cooler than Floyd Mayweather. After all, the Russian won by unanimous decision, and 2 out of 3 judges gave the victory to Floyd.
Canelo moved up to light heavyweight to make history and add to his legacy. Only he made a serious miscalculation. The Mexican inaccurately measured his capabilities with reality, because real life turned out to be much more severe. In 2013, he believed that he could beat Mayweather. And after clearing the sterile second middleweight, Saul thought he could clear the light heavyweight just as easily. Apparently, he considered that there were the same fighters as the late Sergei Kovalev.
In general, Canelo's legacy is rather dubious. He did not chase big names, because he knew that they themselves would come to him. Moreover, the brand and the Mexican audience worked for Alvarez like a Swiss watch. The Mexican proceeded from his position of strength when choosing his opponents.
And sometimes he chose them not quite consistently, delaying or ignoring truly competitive fights. So, for example, the epic with Gennady Golovkin took place in 2017-2018. Although the peak of GGG fell on the period from 2012 to 2015. Brothers Charlo and Joseph Benavidez also expressed their desire to fight the Mexican star, but apparently Alvarez is afraid of them.
Beating the late Miguel Cotto is also not the most outstanding achievement. Moreover, Manny Pacquiao and Floyd Mayweather did it earlier. Even Austin Trout beat the Puerto Rican. What is the conversation about? And calling welterweight Amir Khan to middleweight is what? Briton with a crystal jaw jumped over one weight class, gaining 6 kg, so what? Apparently, to replenish the inheritance fund of Alvarez. I don't see any other reason.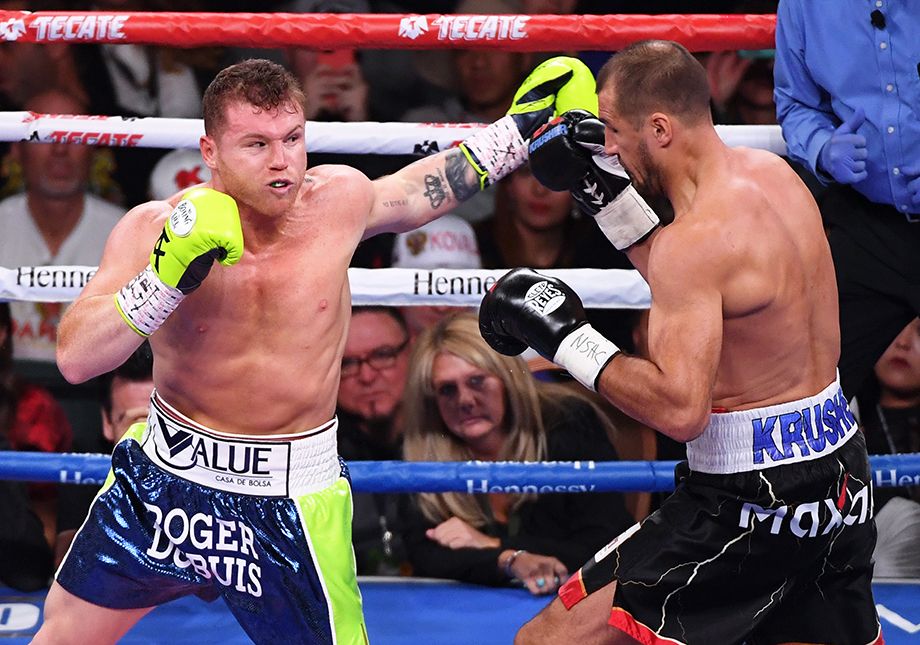 Saul Alvarez and Sergey Kovalev
Photo: Ethan Miller/Getty Images
Sergey Kovalev agreed to fight Canelo only because of the record fee. The Russian had to accept the challenge without the right to a long and well-deserved rest. So he jumped into the ring a little over two months after a grueling fight with Anthony Yarde. Moreover, Sergey also agreed to limit weight gain after weighing. And even with such limits, Kovalev endured until the 11th round, losing with a minimal gap. Is this an honest victory that you can be proud of, looking at the won belt?
The work of judges is generally a separate fairy tale. CJ Ross gave him a draw in a losing fight with Mayweather. Under the protectorate of Oscar de la Hoya, Alvarez forced out a victory over Cuban runner Erislandy Lara by a split decision. The first and second fights with Golovkin are still being discussed.
Even today's refereeing can be faulted. Let's remind, all three judges have exposed identical 115:113. It's 7:5 in rounds. A very close account. While an independent expert on DAZN estimated at 117:111. Our editors also counted 117:111. And the American edition of BoxingScene.com sentenced Canelo (118:110).
This is a declass, not a close defeat. He was brushed off again, so that later in history they would write that Canelo lost to a larger light heavyweight in a competitive and almost equal fight. If the side judges put subjective 117:111, then there would be more questions about the legacy. And so he was given a chance to correct the situation in the form of revenge.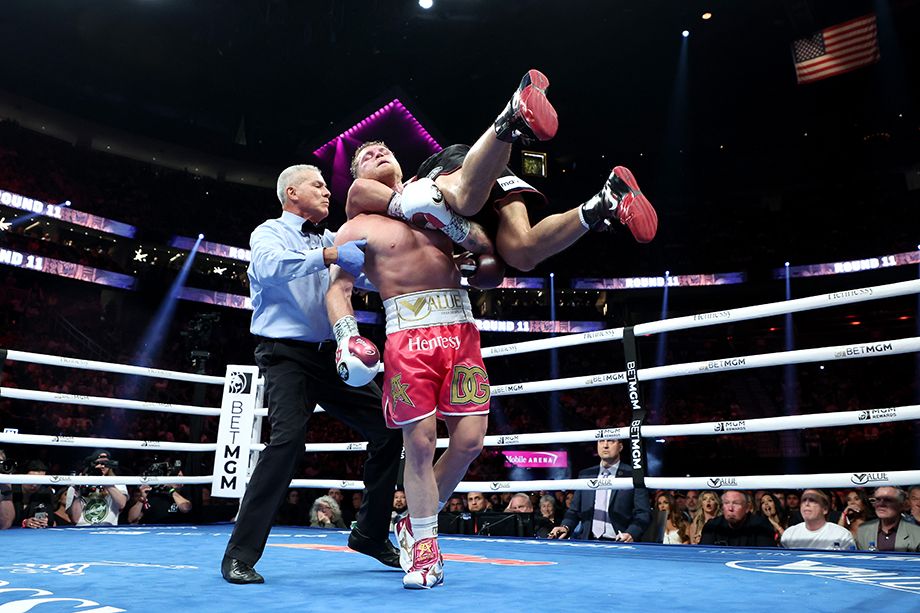 Saul Alvarez and Dmitry Bivol
Photo: Al Bello/Getty Images
Oh, what else is there with the protectorate? There is WBC President Mauricio Suleiman. He actively defended his compatriot when he was caught with doping before the fight with Golovkin. And to remove the Russians for political reasons – please. It's good that there are other boxing organizations that are putting politics on the back burner. Plus, he constantly gave Canelo new belts, coming up with new reasons. Apparently, in Mexico there are not so many reasons for joy and pride that one has to once again pull Red by the ears.
In the bottom line of the scalps whom Canelo beat on the case and without any reservations, only Daniel Jacobs, Austin Trout and Billy Joe Saunders stand out. The rest of the super middleweight champions don't deserve a mention, because they will remain no-names with mediocre skills. Here it is, the real price of Saul Alvarez.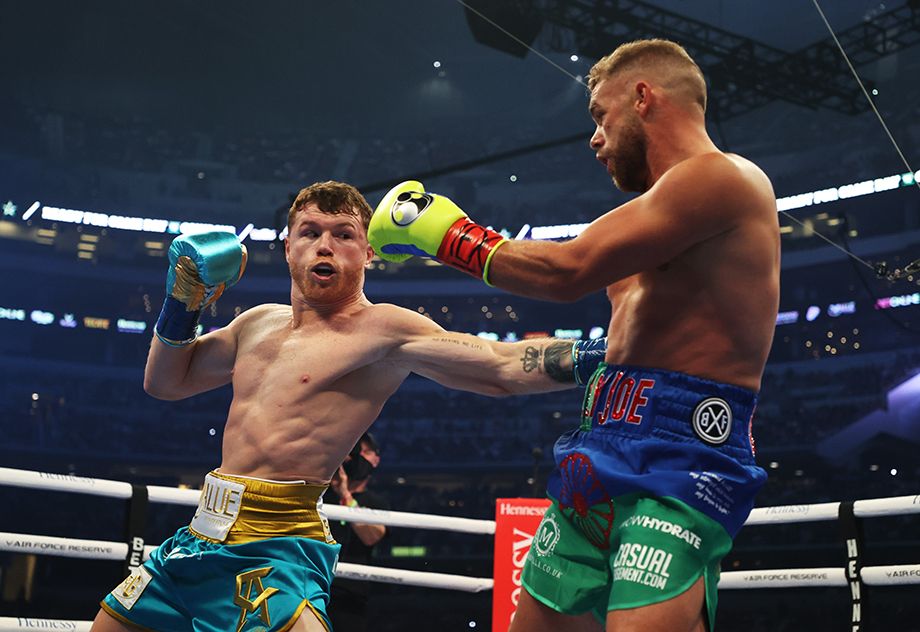 Saul Alvarez and Billy Joe Saunders
Photo: Al Bello/Getty Images
With such victories, a fighter has no right to call himself great. What kind of legacy and greatness can we talk about? After all, PR is a very powerful tool. Thanks to him, Canelo was exalted on the same level as Mexican boxing icon Julio Cesar Chavez, who did not have such resources.
But in the end, he decided to play Floyd Mayweather and got burned very badly on this. Mayweather may have questions about the timing of the choice of an opponent. From the fight of the century with Manny Pacquiao in 2015, some still spit. But in terms of building a legacy, Floyd has worked flawlessly. However, Canelo got carried away, imagining himself as Roy Jones, jumping from one weight to another without much effort. It would be better if he immediately went to the first heavy weight. There, the less technical and gifted Mairis Briedis and Ilunga Makabu were waiting for him.
The second entry into the light heavyweight division initially looked adventurous. And if Alvarez had cleared it, then there would be no questions for him and his legacy. But in his misfortune, Bivol was perfectly prepared and outboxed the Mexican, which seemed impossible. In addition, Dmitry excelled in physics, in particular, in striking power.
Artur Beterbiev would have destroyed Canelo in a power game and probably knocked him out. And so the Mexican got off lightly. As the saying goes, you can't step into the same river twice. This wisdom from the ancient Greek philosopher Heraclitus is relevant to this day. Only Saul did not know about her.
It is a pity that Gennady Golovkin failed to defeat the Mexican. Although he was close to success. In general, Canelo should have lost a second time a long time ago. And it's good that the Russian fighter managed to do it.
Dmitry, thank you very much for nullifying the legacy of Alvarez and taking off his mask. Now everyone knows that he is an inflated champion.