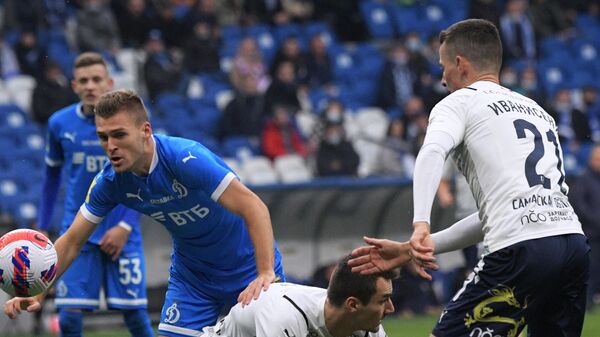 Dynamo fined 120 thousand rubles following the results of the RPL match with Wings of the Soviets
MOSCOW, May 13 – Moscow "Dynamo" was fined 120 thousand rubles after the match of the 28th round of the Russian Premier League (RPL) against the Samara "Wings of the Soviets" (2:5), said the head of the control and disciplinary committee of the Russian Football Union (FTC RFU) Artur Grigoryants.
"Dynamo" for inappropriate behavior in the match was fined 100 thousand rubles. Dynamo fans used two fireworks – a fine of 20,000. For the mass appearance of fans of "Wings" (2 people or more – a mass appearance) and failure to ensure security, "Wings" were fined 100 thousand rubles. The fans were stopped in time, protocols were drawn up," Grigoryants told reporters.
"The appearance on the football field of an outsider (the head coach of Dynamo Sandro) Schwartz – 20 thousand rubles. We received a report from the referee (Vasily) Kazartsev. It was established that there was a confrontation in the actions of Schwartz against the referee, but without profanity. The FTC decided not apply disqualifications. The red card has not been cancelled. Schwartz will automatically miss one game," the head of the FTC said.
Also, Paolo Vanoli, head coach of Spartak Moscow, was fined 30,000 rubles for going outside the technical zone in a match with the Yekaterinburg Urals. In addition, the Red-Whites received a fine of 50,000 rubles for leaving the locker room late and being three and a half minutes late. Sochi after the match with CSKA was fined 100 thousand rubles for six cards in the match, and the head coach of Ufa Alexei Stukalov was fined 30 thousand rubles for leaving the technical zone in the game with Rostov.
Tula Arsenal was fined 50,000 rubles for spectators chanting obscene language following the match with Krasnodar, Kazan Rubin – 25,000 rubles for an inconsistent banner in the game with Moscow Lokomotiv. The FTC RFU did not apply an additional disqualification against the defender of Grozny "Akhmat" Rizvan Utsiev, who received a red card in a meeting with "Nizhny Novgorod". The player will miss one game.
Vladikavkaz "Alania" following the results of the match of 1/2 finals of the Cup of Russia with "Dynamo" was fined 50 thousand for the non-participation of the head coach of the team Spartak Gognieva in a flash interview before the game and an inconsistent banner. The specialist himself was fined 5,000 rubles for going outside the technical zone. Dynamo received a fine of 90,000 rubles for chanting profanity by fans.
.