Orlovsky was knocked out by Fedor, but became a UFC legend. Unlike Emelianenko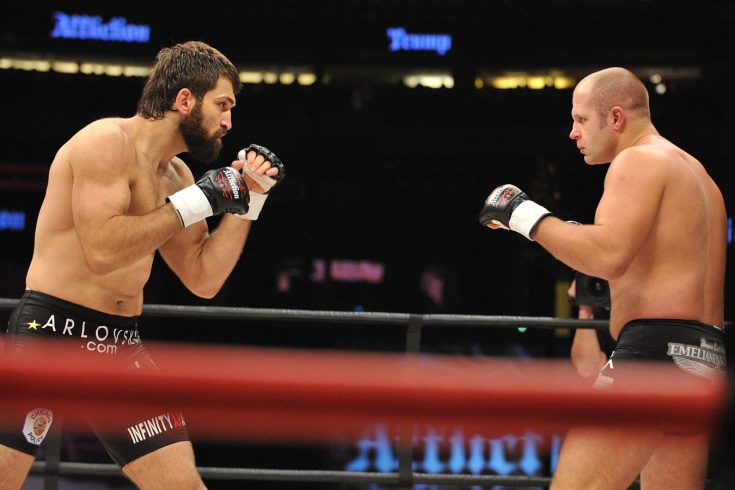 Belarusian constantly wins in the best promotion in the world, where The Last Emperor never made his debut.
Less than a week is left before the next UFC tournament in Las Vegas. In the second most important duel, the legendary Andrey Orlovsky will perform, who will face Jake Collier. Although the first UFC champion from Belarus is already 43 years old, he is naturally considered the favorite of the fight. The illustrious Pitbull is on a three-win streak: despite his age, he is progressing and successfully experimenting with tactics.
Such sports longevity and motivation can only be envied – Andrey continues to strengthen his legacy as a UFC legend. Therefore, it is especially insulting that in our country Orlovsky is known mainly for an unsuccessful fight with Fedor Emelianenko. Recall that in 2009, Andrei successfully resisted the Russian for three minutes, but missed a hard blow to the chin, being in a spectacular knockout.
The rights to the video belong to the promotion Ultimate Fighting Championship. You can watch the video on the official UFC YouTube channel.
Since then, Orlovsky has had to answer questions about Fedor in almost every interview, which cannot but irritate the Belarusian. After all, Orlovsky is the eleventh UFC heavyweight champion, having defeated such legends as Fabricio Werdum, António Silva and Tim Silvia. On account of Andrey, there are 55 solid fights in professional MMA, his career started in 1999. And it deserves respect.
I want to admire not only the previous achievements of Orlovsky, but also his current form. After a series of failures, Andrey radically changed his tactics, stopped fighting and now looks like the smartest fighter. At his age, he remains the most dangerous force: out of the last six fights, the Belarusian lost only one, falling for a choke hold by Tom Aspinall. Now Orlovsky, who has several UFC records, calmly goes through three rounds against young fighters – and wins.
But Fedor, who is only three years older, failed to rebuild. Over time, Emelianenko ceased to be dangerous on the ground, forgot about defense and relies only on the "mallet". Sometimes this is enough, sometimes not. Alas, The Last Emperor never tried his hand at the UFC, and Bellator has a completely different level of rivals. Which, however, does not negate the previous achievements of Fedor.
Therefore, one should not speak derogatoryly about Orlovsky, remembering only the defeat from Emelianenko. Although Andrey did not have a unique series of ten years without defeats, the Belarusian athlete entered his name in the history of sports in golden letters. By the way, it would be very interesting to see a rematch between Orlovsky and Emelianenko. There is a strong feeling that this time Andrei would be considered the clear favorite.