Verstappen made a mistake and allowed Ferrari to issue a double. Can you win the race?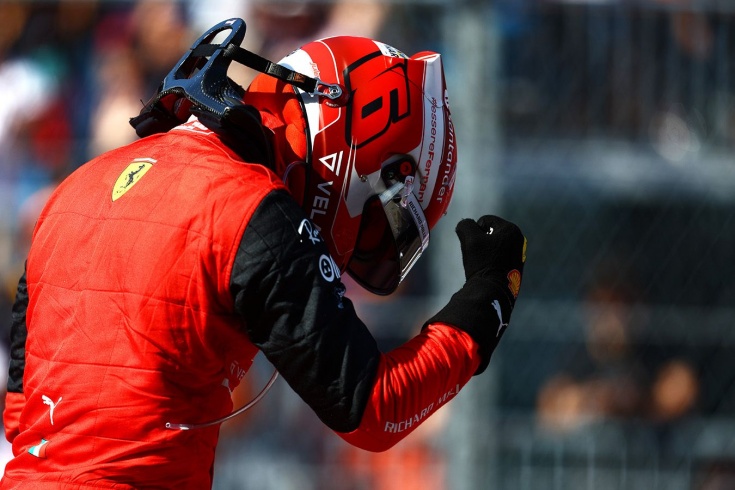 Two Ferraris on the front row, Hamilton this time ahead of Russell, and Haas failed.
Q1: Zhou was prevented by a stopper
The first loser of Formula 1 qualifying at the new street circuit in Miami became known even before it began: Esteban Ocon got into such a bad accident in the third practice that his chassis cracked. Obviously, it was simply unrealistic to prepare a car built around a spare chassis in the time remaining before qualifying. So Alpin had to rely only on Fernando Alonso. Looking ahead, the two-time champion did not perform any miracles. But more on that later.
The owners of the 18th and 19th places were predictably the representatives of the slowest team – Williams. Yes, Alex Albon flashed a couple of times during practice, but at the decisive moment he was powerless to get ahead of anyone but Nicholas Latifi. Moreover, the Canadian lost to his partner more than a respectful 59 thousandths of a second – it would always be so.
17th place was taken by Guanyu Zhou, who was framed by engineers. The Alfa Romeo pilot was released for the decisive attempt in such a way that in the third sector the Chinese newcomer ran into a whole group of pilots who were just getting ready for their circle. Yes, you can complain on the radio, but what's the point? Usually in such a situation no one is fined – they say, such are the conditions on the track …
Finally, the 16th position belongs to Kevin Magnussen. Haas is not in the mood to perform miracles this weekend, and the Dane himself lost to Mick Schumacher – the German, unlike his partner, made it into Q2 with a margin.
Q2: Further – without Russell and two champions
The pilots of Ferrari and Red Bull, as in Q1, made their way further without any problems. An excellent third result was shown by Lando Norris, while Dan Ricciardo failed: the Australian has only 14th time. To justify the experienced Australian, we note that on the first lap he had problems with downshifts. For the second attempt, the car was prepared at the last moment, Ricciardo left for a circle with only five seconds left in the segment, so it is easy to assume that the preparation did not go according to plan.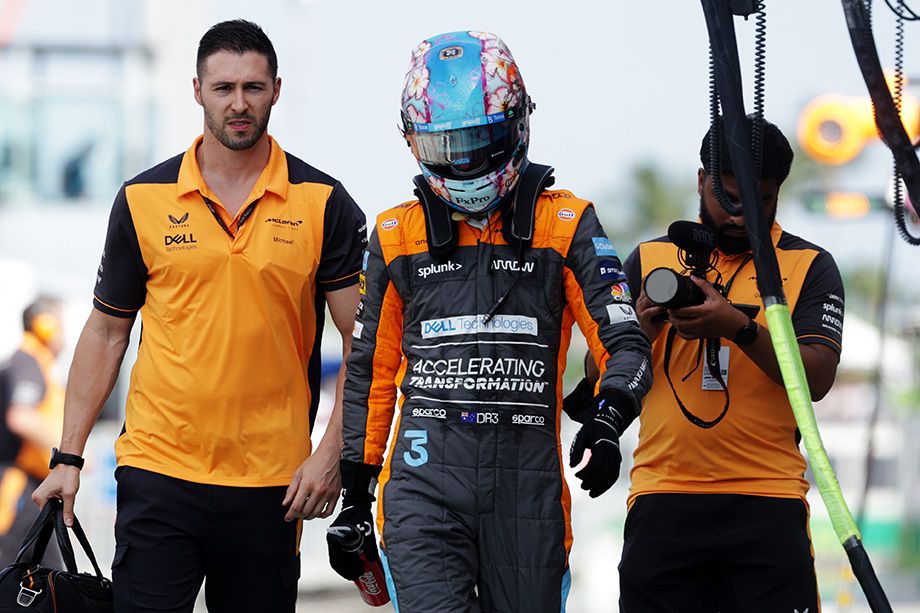 Daniel Ricciardo after qualifying failure
Photo: Getty Images
The most offensive 11th position on account of Fernando Alonso. The Spaniard lost to Pierre Gasly by only 32 thousandths of a second. On the other hand, the Spaniard was only 13 thousandths ahead of George Russell and 54 ahead of Sebastian Vettel. Density is incredible! Russell, unlike Hamilton, made a lot of mistakes behind the wheel of an unstable Mercedes and never managed to collect a circle. Lewis was faster by four tenths – do not rush to bury the sevenfold.
As for Vettel, he admitted that he made a mistake in the chicane – this is what cost Cebu a place in the top 10. This time, the Aston Martin car turned out to be in decent shape: Lance Stroll, who made his way to Q3, proved this. Well, in 15th place was compatriot and Vettel's younger comrade Mick Schumacher – alas, Haas did not show its former agility in their native land.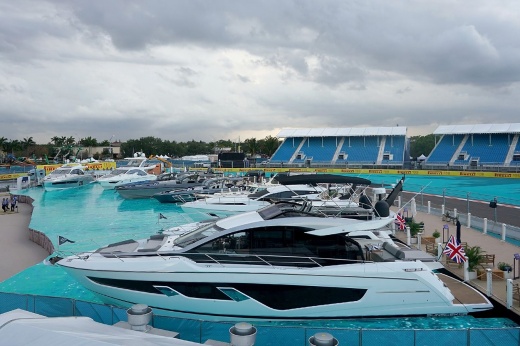 The new F-1 stage has become the object of ridicule because of the fake bay. Maximum absurdity
Q3: Verstappen's turn to get it wrong
The first attempt in the decisive qualifying segment finally brought Red Bull and Ferrari on an equal footing: before that, either someone did not collect a circle, or rivals took turns using worn-out sets of tires. Well, the reconnaissance in force turned out to be brilliant: Verstappen was ahead of Leclerc by 64 thousandths, and Sainz – by 80! Only Perez let us down a little, losing half a second at once. But Cheko and everyone else had a second chance.
There was a feeling that now someone would launch a too decisive attack and the matter would end in an accident and a red flag, but nothing happened. But the mistake still happened: Verstappen could not cope with the next bunch of turns and already in the first sector he threw a circle. Max had to find out by radio whether the Ferrari pilots and his partner could get ahead of him.
Neither Leclerc nor Sainz collected perfect circles, losing time in the third sector, but this did not prevent Charles and Carlos from leaving Verstappen behind. Moreover, if Sainz was faster than the Dutchman by a miserable five thousandths of a second, then Leclerc brought almost two-tenths – there is pole! As for Perez, he added and ended up not far from Max – in 45 thousandths.
The best of the rest was Valtteri Bottas, who again managed to get ahead of the representative of his former team: the Finn was one and a half tenths faster than Hamilton. On account of Lewis, the sixth result, he was ahead of Gasley, Norris, Tsunoda and Stroll.
So, "Ferrari" and "Red Bull" are again actually equal in pace and stand side by side on the grid. Will it help the Scuderia to start in full force from the front row and will the Miami International Circuit give enough opportunities for overtaking? Let's check on Sunday – the start of the F-1 race at 22:30 Moscow time.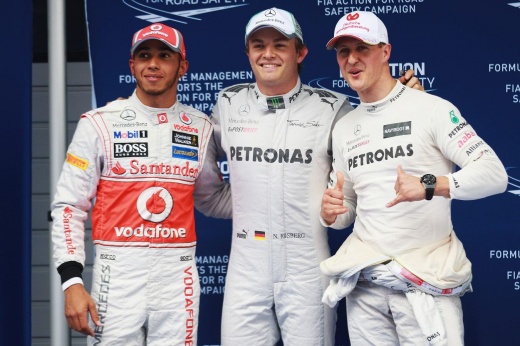 And here Hamilton bypassed Schumacher. Lewis is the most loyal driver in the history of Formula 1