hockey agent Alyosha Pilko – Chief in the Continental League for working with legionnaires. The Slovenian's clients include Korban Knight and Brendan Leipsik, Philippe Maye and Eddie Pasquale, Teemu Pulkkinen and Michal Chaikovsky, and many others. In an exclusive interview with the "Championship" columnist, Pilko told how he manages to leave legionnaires in the KHL under the current conditions, who else should be expected in our league, and also why the World Cup and the Olympics without the participation of the Russian team will turn into a farce.
"Imagine how many conversations I had with every hockey player who decided to continue playing in the KHL"
— How do you manage to keep foreign hockey players in the KHL?
– When this whole story began, I realized that there would be strong pressure from all sides. There really was a lot of it. I realized that since I was considered the lead agent for foreigners, I had to resolve this issue. Strong foreigners are also the face of the league. Almost did not sleep, constantly working. I remember how the same Nick Shor said that he stays at Siberia, and then he takes it and leaves. It became completely clear that the situation is changing every day, so it is important to constantly talk to people. Imagine how many conversations I had with every hockey player who decided to continue playing in the KHL. Sometimes I told the guys: turn off the phone, sleep for a couple of hours, and then answer your own question: "Has something changed?"
Is it true that North Americans are easier to persuade than Europeans?
"Today, this is true. Previously, on the contrary, it was easier to persuade a European. Europeans in the KHL are not worth waiting for now, but the Canadians are more daring, they are going. Especially those who have already played here. Fans need a spectacle, beautiful hockey, strong foreign players, and foreigners need to feed their families. Everyone stays positive.
– You exhibited a photo with your clients Brendan Leipsik and Philippe Maillet with the caption "We are not afraid." Are there those who are afraid?
– I posted the photo as a response to all the criticism against me and my clients. Everyone does their job, we are professionals and we are proud of it. And what some journalist or seller writes from a store in a personal social network – it makes no difference to us.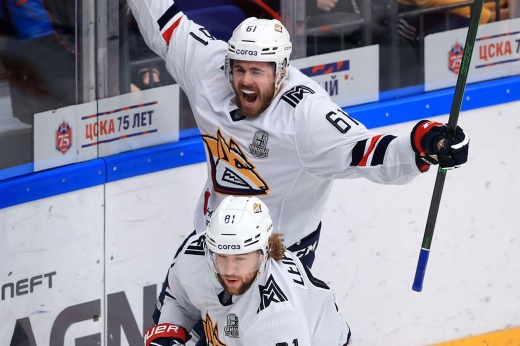 "We are not afraid." Not all legionnaires were afraid to return to Russia
– Did you personally have any pressure due to the fact that you bring foreigners to the KHL in difficult times? How do you respond to your critics?
"Sometimes they even get personal. You can't work to please everyone. At first I answered, and then one of my friends told me: "Don't even read this, don't waste your time." Therefore, I announce transfers, sign contracts and do my own thing, I don't waste time.
"I try to ensure that only high-quality legionnaires come through me"
– What is the general situation with contracts in the KHL now? Did the amounts decrease or increase?
– The price tag on the Russians has risen, everyone needs quality players. Personally, I try to behave as fairly as possible, the clubs and the league now need to help as much as possible. A lot of strong foreign players have always played in the KHL, we need them to come back. Yes, difficult times, more work, but life goes on. It has become harder for some clubs to sign players now, because the market is not so big, someone has to pay more. I try to ensure that only high-quality legionnaires come through me, who will give results.
– Who from North America and Europe can still be expected in Russian clubs, Dynamo Minsk or Barys?
– I think that new names will definitely appear. In the NHL and AHL, the free agent market will open later, we are waiting. If I understand that the guys will be better here and they will be able to show their best hockey, then I will definitely bring them to the league.
– Does Dominik Furch want to play in the KHL?
He has his own family situation. He played in Russia for a long time. Now he is in Sweden, he feels good, he won the local championship. Given that the children need to go to school, I think that Dominik will stay in Sweden.
– Which of your clients will play in Dynamo Minsk? Goalkeeper Kolosov is already on contract, will continue his career in the capital of Belarus Spooner, should we wait for Prince?
– We really decided the issue with Spooner, it remains to sign the contract. According to Prince, the conversation is more complicated. In my opinion, the year before last in Minsk, he showed himself great. This season is unsuccessful, but he has a Belarusian passport, Shane is not a legionnaire in the KHL. Prince is currently being negotiated.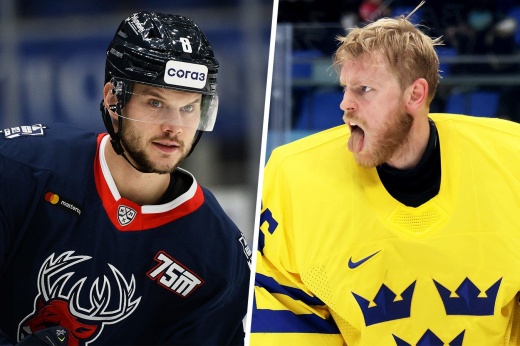 Have you left Russia and what have you achieved? How legionnaires who left the KHL ahead of schedule ended the season
"Knight is in very high demand in the KHL, but we are focusing on clubs that can win the Cup"
– Should CSKA wait for your clients, or have the current champions decided to bet on the Russians?
— Reideborn and Gilmour on active contracts. In addition, there is a verbal agreement with one player from the NHL.
– Will Teemu Pulkkinen stay at Traktor?
He has one more year on his contract. He will be back 100%. We return to the fact that I select my clients myself and agree to work with them only after I understand what kind of people they are. Teemu is a very adequate guy.
– Where will Korban Knight continue his career? Are there any negotiations with Avangard? There was information that the Canadian will miss the current season of the KHL and will play in another league.
– If the club in which the hockey player played is interested in a new agreement and everything suits us, I negotiate with him in the first place. There is a lot of demand for Korban in the league, but we are focusing on clubs that can win the Cup. There are always a lot of hockey players in such teams, and the salaries are less. But if you win the Cup, everything will come back through bonuses. Therefore, we communicate with several teams, taking into account the salary cap. There are options with Europe and North America, but they are plan B. We are now actively communicating and deciding where Korban will start the season.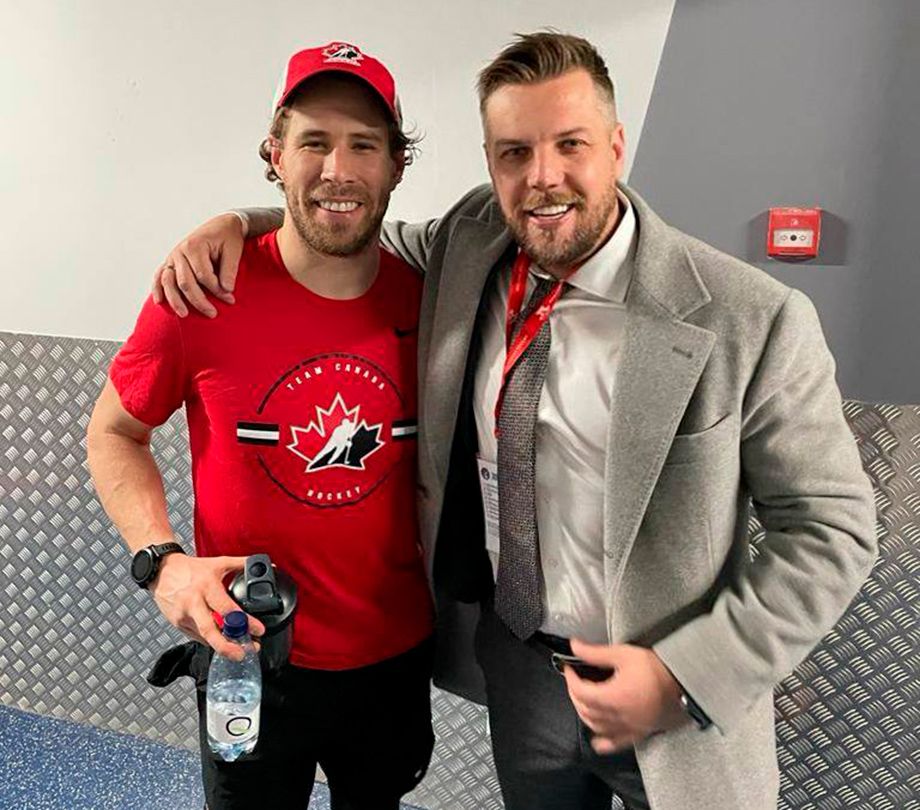 Korban Knight and Alyosha Pilko
Photo: From the personal archive of Alyosha Pilko
– Why did the Slovak Tseglarik leave Avangard, and his compatriot Yarosh agreed to play there and moved to Omsk?
– Tseglarik played a big role in Yarosh coming to Omsk. He gave good advice. Peter is a restricted free agent, Avangard has the rights to him in the KHL. At the moment when he left, it was not clear how many foreigners could play in one KHL club – five or three. Tseglarik received a good offer from Switzerland's top club Zug. We decided not to risk it and accept it. By the way, Yarosh will definitely come to Avangard, because he has already signed a contract.
"Pasquale for about two months – from October to early December – played with a serious injury"
— What's the news on Reed Bush? Does he have a chance to return to the KHL? Rumor has it that Dynamo Minsk is negotiating with him.
– We have proposals from several clubs, Minsk also has an interest. The most serious interest in Reed is now in one of the European teams. We've already had a video call. I think that one of these days we will decide on a place of work.
– Is it true that you offered Knight's teams together with Bush?
– 13 months ago, these guys did a lot for Avangard to win their first ever Gagarin Cup. Korban and Reid wanted to play together, the teams were interested in this attacking combination. Therefore, there was talk that they were paired.
— You now have three clients at Metallurg: Laipsik, Maya and Pasquale. All three agreed to play in the Magnitogorsk team without any problems?
– Of course. They go to the club, where a very competent and comfortable environment has now been created for Canadians. "Metallurg" is fighting for the Cup, and the guys like hockey, which is played by the team of Ilya Vorobyov.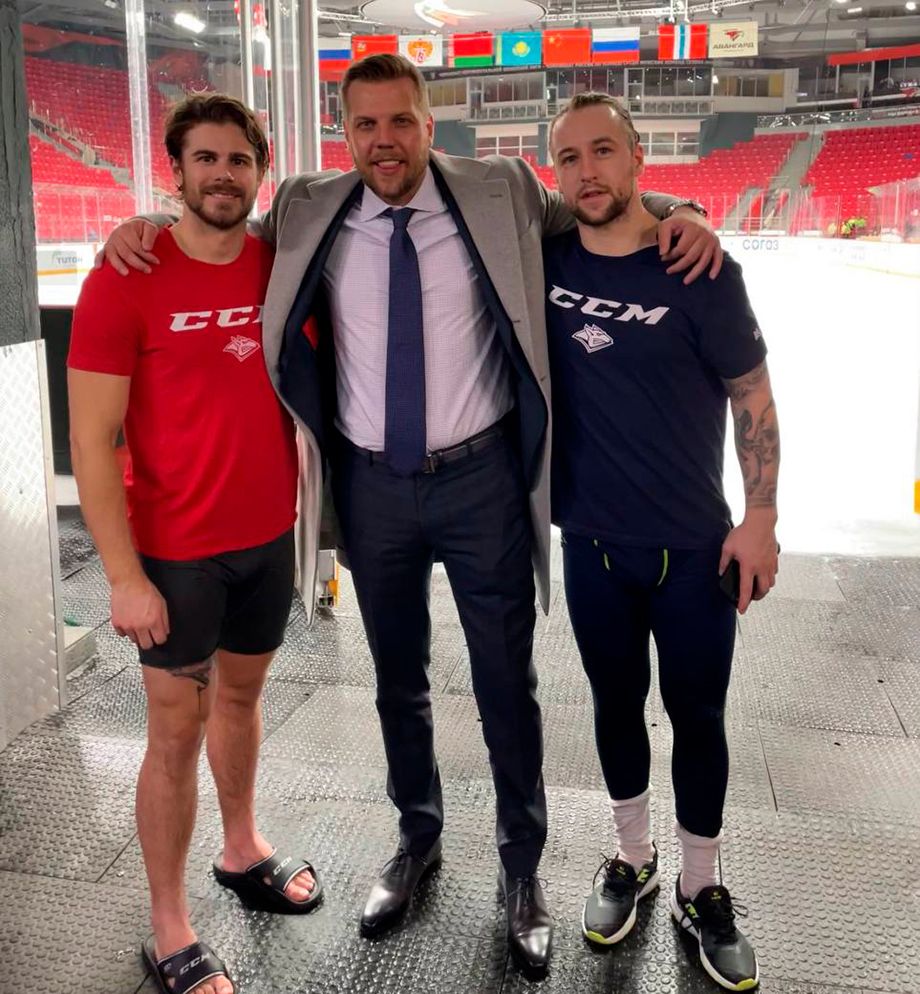 Alyosha Pilko (center), Philippe Maillet and Brendan Leipsik
Photo: From the personal archive of Alyosha Pilko
– Were Pasquale unhappy at Lokomotiv? Did you part on normal terms?
– You need to understand one thing: Pasquale for about two months – from October to early December – played with a serious injury, while not leaving the team. He went out on the ice, tried to give his maximum, so that Yaroslavl would not be even more difficult, because there were almost no changers. We came to the conclusion that we need to change the situation. I hope that everything goes well for Eddie in Magnitogorsk, as it did for Lipsik when he left CSKA from the same game system.
– How long were the negotiations on a new contract with Maye and on the transfer of Pasquale?
– In the current conditions, many people had an interest in Pascual. When Eddie played for Barys, he showed himself perfectly. Then, in his first season at Lokomotiv, Eddie was recognized as the best goalkeeper in the KHL. Now a big role in the transition of Pasquale was played by the goalkeeping coach of Magnitogorsk Klemen Mohoric. Soon Clement will fly to Toronto, where he will prepare Eddie for the season.
"For me, the World Cup or the Olympics is always a battle between Russia and Canada. Everyone else is in additional roles"
– Will Jordan Weale stay at Ak Bars, is there any interest in him from other teams?
He has a valid contract. I think everyone understands that players who come to Russia for the first time often have a difficult first half of the season. Jordan had covid, he was getting used to the new environment and still managed to score almost a point for the game in the Kvartalnov system. I told Kazan that Wil is a player of the level of Lipsik, Knight and Maye. I know his attitude to work and the club he joins and fights for the Cup.
– Do Beck, Graovac plan to stay in our league, where will Tedenby and Strömwall play?
– Beck and Graovac are looking for options in the KHL, Tedenby, together with Andre Petersson, returns to XV-71, to his native club. Strömwall is being handled by my partner in North America, JP Barry, who is currently looking into options. We intend to sign a contract in the NHL.
– How are things with Tchaikovsky in Siberia?
— Tchaikovsky on a valid contract. He remains at Sibir and will play next season. He likes everything there, Michal is pleased with the situation in the city and the club.
– Moscow "Dynamo" expressed a public interest in the services of Lindbergh, but he chose Switzerland. Was the political factor the main motive in his decision?
– For me personally, seeing Oskar Lindberg in a different jersey, except for the Dynamo uniform, will be very unusual. May life continue to show how Oscar's career develops. Taking into account the whole situation, we decided that Lindbergh's career in the KHL is still on pause. We didn't want to let Dynamo down, we said it early enough, we respect the team. We believe that it is Dynamo that is the club that Oscar needs in Russia. But now he will play in Switzerland.
– Personally, you do not support the removal of the Russian team from international hockey tournaments?
I have been watching hockey since childhood. For me, the World Championship or the Olympics is always a battle between Russia and Canada. Everyone else is in additional roles, something is changing, but Russia and Canada are the top. What is the World Cup when you watch it and there is no Russia there? This should not be. It's just not fun to watch.
Do you agree that politics should not interfere with sports?
"People always do what suits them. I have been taught all my life that it is necessary to go in for sports, not politics, and today we are asked for our opinion. But what opinion can there be if a person is not a politician? Everyone must do their job. We are people who have chosen from childhood that we will follow the path of sports. This applies to me and my clients as well.