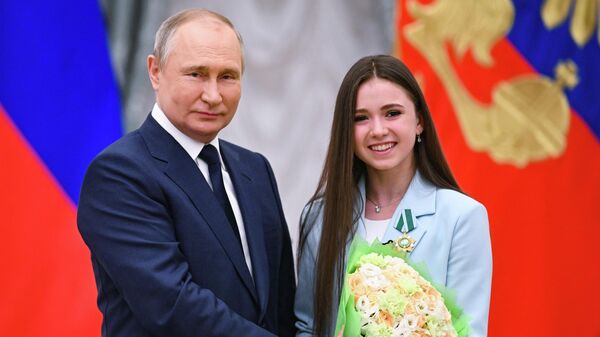 Putin to figure skater Valieva: the main thing is not to pay attention to criticism and achieve success
MOSCOW, 26 April – Russian President Vladimir Putin advised figure skater Kamila Valieva not to pay attention to criticism, discard everything superfluous and achieve success.
On Tuesday, the President met with the winners of the Olympic Games in Beijing and presented state awards to gold medalists. The ceremony took place in the Catherine's Hall of the Kremlin. Valieva addressed the president with a speech of thanks. After the end of the event, the figure skater left the hall, preferring not to answer questions from journalists.
After performing at the Olympics in the team tournament, it became known that Valieva passed a positive doping test on December 25 last year. The Court of Arbitration for Sport allowed Valieva to participate in the individual tournament, where she took fourth place. The investigation into her case is ongoing. The International Olympic Committee (IOC) announced the results of the Olympics competitions with the participation of Valieva as preliminary.
"The main thing is not to pay attention to it. True. You are a very young girl. At that age, it's hard to endure such a wave, such assaults," Putin said during a conversation with the athlete.
"Time has already passed, everything has passed," Valieva said.
Putin gave her some advice.
"The most important thing here is to get together internally. Everything that is not related to sports should be discarded. Go ahead and achieve success," the president said.
The head of state also called the sport of high achievements difficult and tough.
"Industriousness is a talent… The sport of the highest achievements is hard work, this is a separate destiny. Everything is very tough there. I know it's very tough there… You need to give yourself entirely," Putin said and added that Russian athletes help in matters of involving ordinary Russians in sports life.
.