The fighter of the Archangel Michael club, Ilyas Khamzin, is still better known to the public as a friend of the former UFC bantamweight champion Peter Yan. But Khamzin has many personal plans, and getting into the promotion of Dana White is also included in them. On September 23, the fighter fought at the RCC: Intro 23 tournament against Alfredo Souza. 10 days later, in an exclusive interview with "Championship" Ilyas told what is Sean O'Malley's chance in a duel with Peter, what impression Alexander Emelianenko left and why Alexander Shlemenko surrendered.
"Slightly relax the rolls – then you can look at the ceiling"
– How are you feeling after the fight with Souza?
– Everything is fine. There were bruises on the legs, but everything has already passed. And in general, everything is excellent.
– You are going on a series of five wins, and 2022 is turning out to be especially successful – you have already won three fights. Are there any plans for the next fight? Maybe the leadership promised a high-profile duel?
– No, it's quiet, nothing is planned. Already started training. As the saying goes, there is always an arena for a ready horse.
– You have two defeats in your career – from Sviridov and Medvedev. Do you want to take revenge on Boris?
– Medvedev and I are already on the same team, so it's unrealistic. And so I already let go of this situation – I know how it was.
– You haven't been to Thailand for a long time. It turns out that they did not take part in the preparation of Peter Yan for Sean O'Malley?
No, I prepared myself. In general, I was preparing for the big August tournament, but I was at the training camp in Altai, I broke my finger on my hand, so I had to withdraw. The fight was postponed to September, so it was not possible to go. Initially, they were going to, but I didn't manage to meet the deadlines there, because in Thailand the climate is different, the time is different – we have to rebuild.
– Does Peter have sparring partners who are able to imitate O'Malley as well as you?
– There is a guy from Uzbekistan, he fits in all respects (Ilkhom Nazimov, 8-1 in MMA. – Approx. "Championship"). He also moves, kicks a lot, a good kicker. There are no problems with this. I already weigh 87 kg, large for Peter.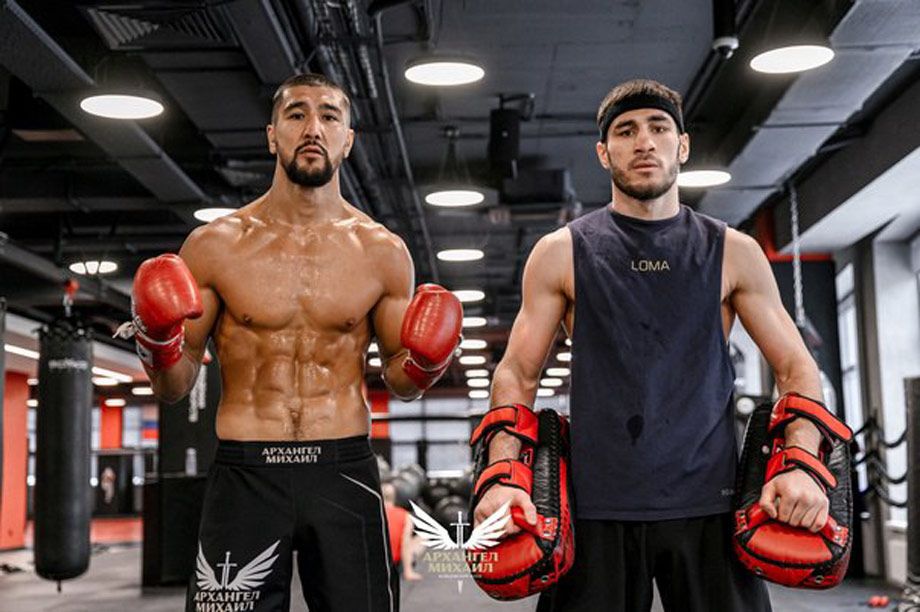 Ilyas Khamzin training
Photo: RCC press service / rccmma.com
– O'Malley has not yet been tested by serious rivals. What do you see as his strengths, thanks to which he could give Jan problems?
– MMA is such a sport, there are four ounce gloves, everyone has a chance. Therefore, O'Malley has a chance to hit, lucky punch.
– Before the second fight with Sterling, many of the Yan team underestimated the American. Do you think this could relax Peter?
"I think other factors played a role. There was no underestimation. He has always been regarded as a serious opponent.
– Isn't it such that now the underestimation is going in the direction of O'Malley?
How can there be underestimation? This is the kind of sport where you relax your rolls a little and then you can look at the ceiling. We prepare seriously for each fight, regardless of the opponent.
– Don't you think that this is not a profitable duel for Peter in terms of the outcome? In case of victory, everyone will say that he beat only the 12th line of the rating, and in case of defeat, he lost to a fighter from the bottom of the top 15.
– O'Malley is a project, he is known in America, he has a name. On the contrary, a loud fight, I think.
– On the same card, TJ Dillashaw will face Sterling. Should Petr count on a third title fight with Aljamain if both win?
– Why not? It can be regarded that they have a score of 1:1. The third fight is definitely needed to put all the dots. In the second fight, it is debatable – Petya took the championship rounds. He won the last two rounds, just in the second and third he sat behind his back and did no damage. Okay, let's give it to him. The first round is a draw. Dana White himself even came out and said his opinion that Peter had won. These are all facts, I do not speak as a friend – I just named the facts.
– Will you second Peter in a duel with O'Malley?
– No, there will be guys who will do it. I'll sit, I liked it in the second row.
– Do you know who else will be in the corner?
– Johnny (coach John Hutchinson. – Approx. "Championship")Lyokha (Yan's friend Alexei Sorokin. – Approx. "Championship") and probably Sayat (Manager Abdrakhmanov. – Approx. "Championship"). Now three people are only possible. Sayat needs to be translated somewhere, because Joniboy has such an Irish accent.
"When does Emelianenko get out of a binge?"
– You prepared for the fight with Souza in Yekaterinburg, where Alexander Emelianenko also trained. What are your impressions from working with him?
– I did not particularly work with him in pairs, and in the training cycle they did eyeliner together. I got to know Uncle Sasha better – this is such an adult boy. If there was no alcohol in his life, he would have achieved a lot.
– Did you spar?
No, and I don't think you should.
– Were you surprised by the result of the duel with Datsik?
– No, I told him that you need to keep your hands on your head. He's got a habit like the Hulk (Ivan Shtyrkov. – Approx. "Championship") also noted that you can't retrain a 40-year-old man. We all told him to keep his hands up. It's just that Datsik also has a bank, he is dangerous for the first two minutes. If the fight had gone on in two minutes, it seems to me that Sasha would have shot on points. And just ate a jar. And if you look – how often does he get out of hard drinking? But he did a great job on himself anyway.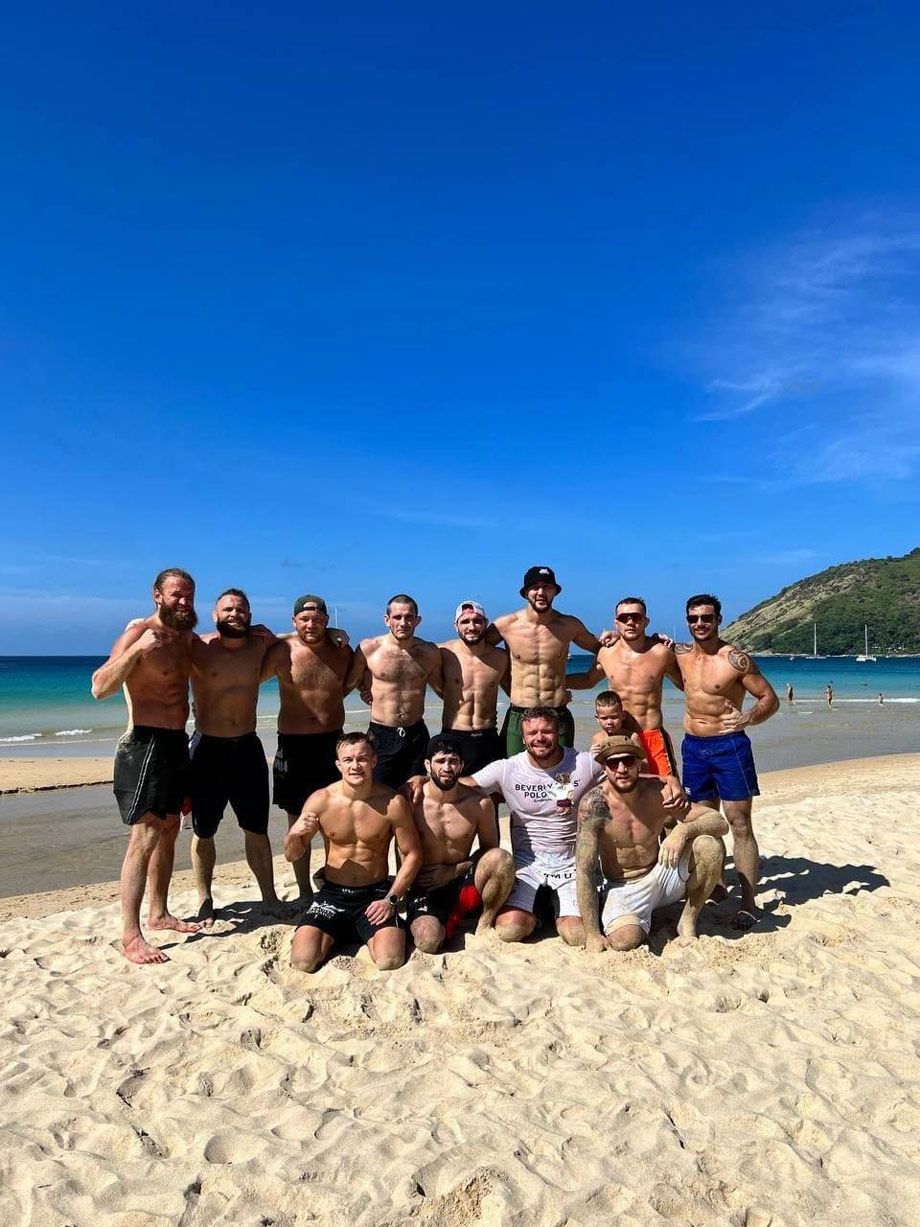 RCC fighter training
Photo: RCC press service / rccmma.com
– The next rival of Emelianenko is Sergey Erkaev. Have you heard of him before?
No, I didn't hear it at all. I don't even know who it is.
– Erkaev is the head of the Arena pop-MMA promotion. In his youth, he won the championship of Russia among amateurs in army hand-to-hand combat, but did not fight from the age of 18. Do you think it is possible that Alexander will lose to such an opponent?
– If he has some skills … Are they in MMA? I think Emelianenko will win. Experience will take its toll. I just have no idea what the opponent is.
"A man who used to do army hand-to-hand combat.
– If you regard it that way, then Alexander Emelianenko will win. He's not so in the hole.
– Now many professional fighters go to pop-MMA. The same Shara Bullet and Vagab Vagabov. Are you interested in this? Were there any offers?
– I'm not interested at all. I wanted to try myself in boxing, I offered Nikulin a fight two or three times. Something silence from him. I think, well, then I don't need to. I have enough of everything, I fight in a good organization, with good opponents, I develop. I'm not interested, although if you take civilians, they all ask if I watch Hardcore or other leagues.
– Do you follow?
– Follow me on Instagram (Meta is recognized as an extremist organization in the Russian Federation, its activities are prohibited in the country. Facebook and Instagram social networks are banned in Russia) some dirty cut will fall out in the recommendations, where they beat each other on the sly. Vagab and Shara punish them normally. Someone from the MMA elite needs to be there to let them know that MMA is not a joke.
"The defeat of Shlemenko from Ilic is not an accident"
– It has long been said that sooner or later we will see you in the UFC. Keep this possibility in mind?
– I'm holding. I think the number one goal for any athlete is to get into the elite and prove himself there. So, of course, I always keep this goal in mind – that my place is there. And I believe that I will get there.
– Have you thought about breaking through Dana White's Candidates series?
– First of all, I will get a visa in the near future. And at least we'll go there. I think my fights are spectacular, I will be interesting. It will be necessary through the contender – we will go through the contender, no problem. There are even options to get into Bellator. Either Bellator or UFC. It's just that a visa is needed, but it's not there, I didn't deal with it.
– In the UFC, serious fighters are often not noticed, but at the same time they sign a long-term contract with Hasbick. How fair do you think this is?
– The UFC is a PR machine, and Hasbik is well-known, on hype. And so, what an injustice – the kid has untwisted himself, let him move.
– At the beginning of your career, you trained in the Alexander Shlemenko gym. If you compare his form then and now, is there a feeling that Alexander gave up?
– I have had five Brazilians in my career – I know that they are uncomfortable. Sometimes the fight doesn't go the way you want it to. It seems to me that Souza is an uncomfortable opponent – he fought with Martynov, Martynov also did not fight with him. They jumped there. I think Alexander Pavlovich also failed to realize himself. But in terms of functionality, he used to be much better, he added with each round, but here he sagged somewhere. Well, and a long idle time. My opinion is that he needs to concentrate a little on training, because functionally he sank a little. But if he feels good, the pressure does not rise, does not fall, then why tie it up? He is at such a stage that he can engage in fights purely for fun.
– Doesn't it bother him that he sprays? And he fights, and trains, and organizes tournaments.
– Of course it does. You should abstract and deal only with this, I think. Train and train yourself – you will not go far. You will be somewhere here and there, but the result can be deplorable. Everyone must do their job. My coach Kairat Nurmaganbetov knows his stuff – he is immersed and not sprayed. Everyone must do their job. But we all know Shlemenko is a character. Maybe in December he will return, he will show himself better.
– Was Ilicic's defeat in 21 seconds an accident?
– I don't think so. Ilic read it and finished his plan. He is tall and awkward. Shlemenko went at him in his own way, began to sit down a little. He just fell between the hands.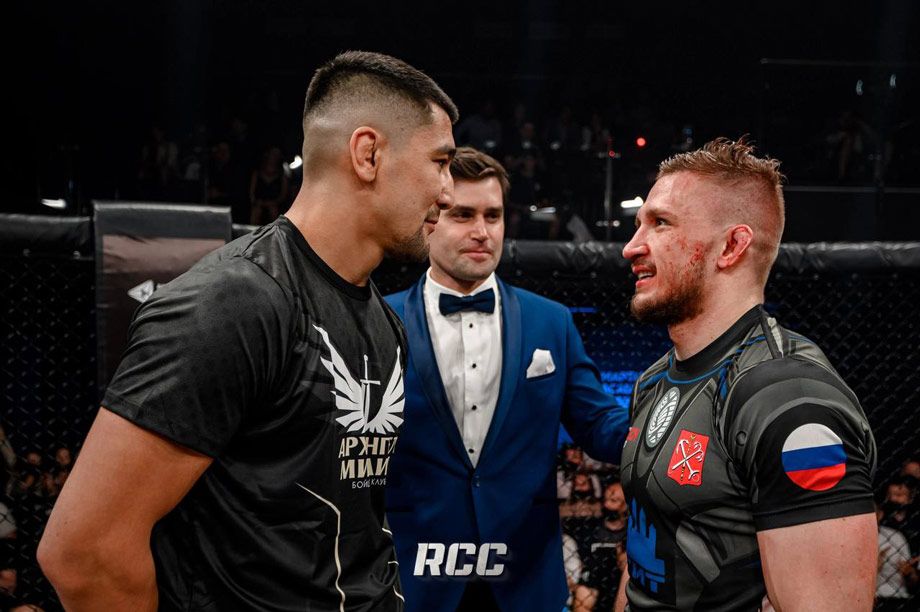 Fight Ilyas Khamzin
Photo: RCC press service / rccmma.com
– The Serb is now very much in demand in Russia and the next fight will be against Magomed Ismailov according to the rules of boxing. Who has a better chance?
Maggie, I think. He has good boxing, I can tell you. He is constantly moving. It seems to me that Maga will impose his game on him. Magomed is a wrestler, but his brother is a boxer. He has known what boxing is all his life. Even when he was doing freestyle, he would knock on his paws anyway in the evenings with his brother. I root for Maga, so I give him a little privilege.
– Now in Russia and the world a difficult situation. Did someone at the Academy of the RMK receive a summons to the military registration and enlistment office?
– Nobody from our team came.
– You trained with both Khamzat Chimaev and Shavkat Rakhmonov. Fans are now dreaming about their fight – can you compare how Khamzat is stronger than Shavkat and vice versa?
– Shavkat is stronger in shock. He is also no stranger to wrestling. If they have a potential fight, I would bet on Shavkat. It was harder for me to stand with Shavkat than with Khamzat.
– You once joked that you would help Shavkat clean up the division …
– I wasn't joking! This is my attitude. When I watch fights in 77 kg, I think that I am not worse than them at all. Even take this Chinese (Lee Jinliang. – Approx. "Championship")what number is he there, 12th?
– Do you think you are ready to compete with UFC welterweights from the top 15 and top 10?
– In general, I can easily compete with them. I have such an attitude that I can fight them. You have to believe in yourself. Do not exalt yourself, but believe that I am no worse.