The judges robbed the Russian! Joe Smith got his biggest career win in 2021. Video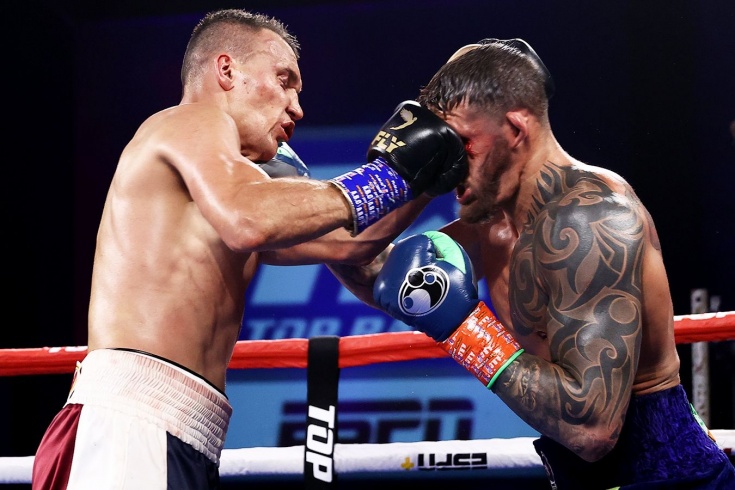 Maxim Vlasov was not allowed to win in the USA. Beterbiev should take the fight early.
There are a few hours left before the fight between Artur Beterbiev and Joe Smith Jr. The Russian is the favourite, but he can't relax even for a second. His opponent is a well-trained boxer with a heavy punch. Smith may seem like a clumsy bumpkin, but at the right moment he "explodes", sending opponents to a knockout. However, Joe knows how to win on points. A great example is his fight with Maxim Vlasov.
Then the American and the Russian contested the vacant WBO light heavyweight title. Most experts considered Smith to be the favorite: Joe had more major victories on his account, and his athletic form was not in doubt. But Vlasov by that time had not fought for almost a year and a half, and even suffered a coronavirus. But our compatriot managed to give a cool fight.
The first rounds were left to Smith, who showed the usual rigidity and assertiveness. Maxim endured the initial assault and began to gradually take the initiative to his gloves. The Russian skillfully used the dimensions, technically outplayed the opponent and forced him to pull out. Vlasov approached the championship rounds as a leader: his heavy blows seriously affected the face of the American, who also breathed.
However, Smith was just gathering his strength for a decisive breakthrough. At the end of the 11th three-minute period, Joe shook Vlasov with a powerful blow, who hardly reached the gong. Maxim went to the final round without fully recovering. As a result, the dominance of the American, who failed to knock out his opponent, but took the round outright. After the end of the fight, both boxers raised their hands, clearly counting on a decision victory.
The rights to the video belong to the promotion Top Rank Boxing. You can watch the video on the official Top Rank Boxing YouTube channel.
Alas, one judge counted a draw (114-114), and two of his colleagues gave the victory to Smith (116-112, 115-113). The verdict did not seem entirely fair: after all, for most of the fight, Vlasov looked a little better than Joe. On the other hand, the shock ending in his performance clearly played for the American. We must not forget about the factor of "home" refereeing. Let's hope Beterbiev doesn't let Smith get to the decision. Need a knockout!