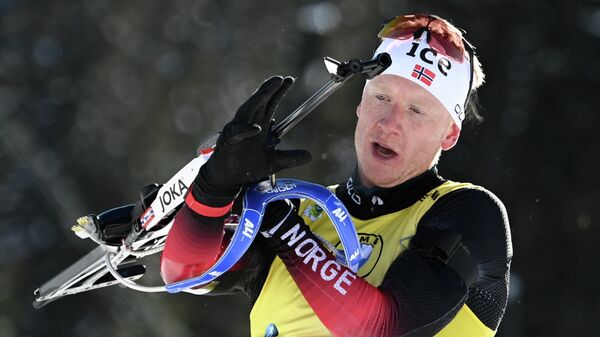 Johannes Be bowed to Anton Babikov during the awards ceremony in Antholz
MOSCOW, 20 Jan — Norwegian biathlete Johannes Be congratulated Russian Anton Babikov on his victory in the individual race at the seventh stage of the World Cup in Antholz, Italy.
During the award ceremony, Johannes Boe, who took fourth place and became a participant in the flower ceremony, while maintaining social distance, refused to shake hands with the winners of the race and bowed to them.
Join us for the flower ceremony of the Men Individual in @biathlonantholz – congratulations to Said Khalili for this first individual podium… and Tarjei Boe for taking the Individual Discipline score! 🥳

Watch live on https://t.co/bk5aBBaMLg #ANT22 pic.twitter.com/dlEQv61du3

— BMW IBU World Cup (@IBU_WC) January 20, 2022
According to the results of the race, Anton Babikov took the first place, who did not allow a single miss on all four firing lines and covered a distance of 20 kilometers in 49 minutes 46.8 seconds. Khalili lost 48.5 seconds to Babikov with one miss. Second place went to Johannes Be's brother, Norwegian Tarja Be (2 misses, +9.7 seconds). The top three winners were closed by Russian Karim Khalili (1 miss, +48.5 seconds).
.