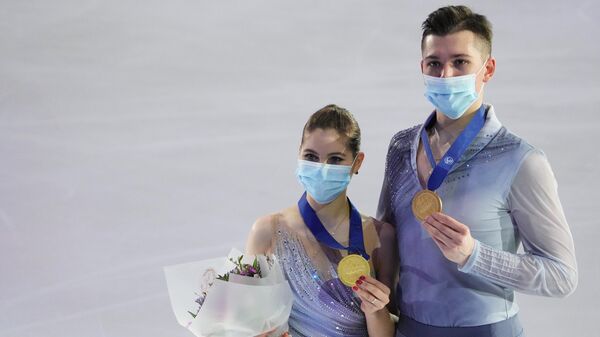 Matytsin called the triumphant performance of Russian figure skaters at the European Championships
MOSCOW, 16 Jan – The Minister of Sports of Russia Oleg Matytsin considers the results of the European Figure Skating Championship for the national team to be triumphant.
The competition ended on Saturday, the Russians won nine awards out of 12 possible.
"Congratulations to the Russian figure skating team on a brilliant performance at the European Championships in Tallinn!" the press service of the Ministry of Sports quoted Matytsin as commenting. "In women's singles and pairs skating, our athletes took all three steps of the podium and demonstrated that they have no equal in Europe! The last tournament was an important test of strength for the Russian team before the Beijing Olympics, the team coped with this test perfectly.Congratulations on the triumph of our athletes at the European Championships, the coaches of Russian figure skaters, and the Russian Figure Skating Federation!I wish the Russian figure skating team keep this winning spirit going into the final stages of preparations for the 2022 Games."
In women's single skating, Kamila Valieva won, Anna Shcherbakova was second, Alexandra Trusova was third. In men, Mark Kondratyuk was the strongest. On the podium after the competition of sports couples were the Russians Anastasia Mishina and Alexander Gallyamov, Evgenia Tarasova and Vladimir Morozov, Alexandra Boikova and Dmitry Kozlovsky. Among the dancers, Victoria Sinitsina and Nikita Katsalapov won, Alexandra Stepanova and Ivan Bukin came second.
The Beijing Olympic Games will be held February 4-20.
.