The ex-director of "Chertanovo" Nikolai Larin was imprisoned for three years – he will serve his sentence in a general regime penal colony on charges of embezzlement on an especially large scale. Larin admitted that he really did add "dead souls" to the lists in order to receive large funds from the budget, but, according to him, he did this for the efficient operation of the academy, and not out of a desire to cash in. The court, however, thought differently: the guilty verdict says that the former director of the Chertanovsky Academy used the money received for other needs, and even did it together with other people.

Nikolai Larin
ex-director of "Chertanovo"
"If you see this post, then I left you for a while. I'm sorry it happened. But I am proud of our school, staff and my work. And our alumni, of course.
For the football community, the decision of the Zamoskvoretsky court came as a shock: yes, it was clear that Larin would not be acquitted (he nevertheless admitted that he had violated the law), but many expected him to receive a suspended sentence. Those who were at the meeting today especially believed in the reality of such an outcome, when the judge read out all the positive characteristics and extenuating circumstances. Midfielder "Spartak" and a pupil of "Chertanovo" Anton Zinkovsky said after that the hope was still alive during the break. But everything collapsed when the judge announced: "The court considers that guilt has been fully confirmed. Guilt has been proven. Larin committed two crimes of fraud. He fraudulently received money, which he disposed of at his own discretion. The court sentenced Larin to be found guilty. Punishment – imprisonment for three years in a correctional colony of general regime.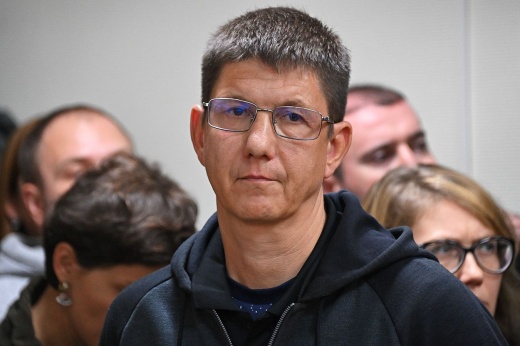 "For now everyone." The ex-director of "Chertanovo" Larin was nevertheless given a real term
"This is a complete ass," Zinkovsky commented on the decision of the court. – A big kick and one of the finishes for youth football. The person who has done the most for youth football in recent years… This is how they treat him."
The defender of the "Wings of the Soviets" Alexander Soldatenkov, who spoke at the meetings on behalf of the defense, agrees: such a sentence is "unfair not only in relation to Nikolai Yuryevich, but also to Russian football."

Alexander Soldatenkov
defender of "Wings of the Soviets"
"I, like many football players, coaches and specialists, believe that Larin has done a lot for youth and adult football. I really hope that everyone is unhappy with the decision of the court to put him in jail. Might be able to challenge it somehow. Let's hope that thanks to the appeal, the sentence will be reviewed, because we would not want football to lose such a person for at least three years."
Another Krylia defender, Yuri Gorshkov, also called the decision "unfair" and added: "All the Chertan guys are in shock now. I believe that Nikolai Yuryevich Larin will be released on parole as soon as possible. But I don't think the appeal will change anything."
Sochi forward Vladislav Sarveli said that this is a serious blow for him.

Vladislav Sarveli
Forward "Sochi"
"Unfortunately, we live in a time when anything can happen. The case of Nikolai Yuryevich Larin shows that there is a lot of injustice in life, but we need to fight it somehow and move on. I'm sorry that this happened. I will support him. I believe that he will be released much earlier on parole."
The head coach of the Russian national team Valery Karpin was brief but clear: "This is a disaster." Vyacheslav Radimov supported everyone who spoke in support of Larin, and added – this is "a sad event not only for football, but in general in life." Yuri Semin, like his colleagues, is sure that Larin did not deserve such a punishment, because he "worked in the interests of Russian football."

Vyacheslav Radimov
head coach of Zenit-2
"As far as I understand, he admitted his guilt and spent the money on the guys, and not on himself. I would like him to be released on parole. Not only me, but many others wanted him not to sit down at all. This is a sad event not only for football, but in general in life."
Larin's sentence was a big blow for Sergey Pinyaev: Larin did a lot for him, literally raised him from childhood, giving him the way to England to watch in Manchester United and to big Russian football.
"It's hard to realize all this," Pinyaev said. – I refuse to understand that in the near future I will not see the person who did so much for me, the guys, "Chertanovo". This man did a lot for football, brought up a huge number of players for the RPL. Very sorry. I can't believe that this happened to Nikolai Yuryevich. He treated the players at his own expense, helped the families, did everything for his players. Now there is a lot of slander against him from those who are not interested in Larin developing football. Apparently, it's all very beneficial to someone. We will show interest as much as possible, continue to help in everyday situations, nutrition issues. We will do our best to make him as comfortable as possible in this situation. We'll get through it together."