The cage didn't last. The lightweights are out of the octagon in 20 seconds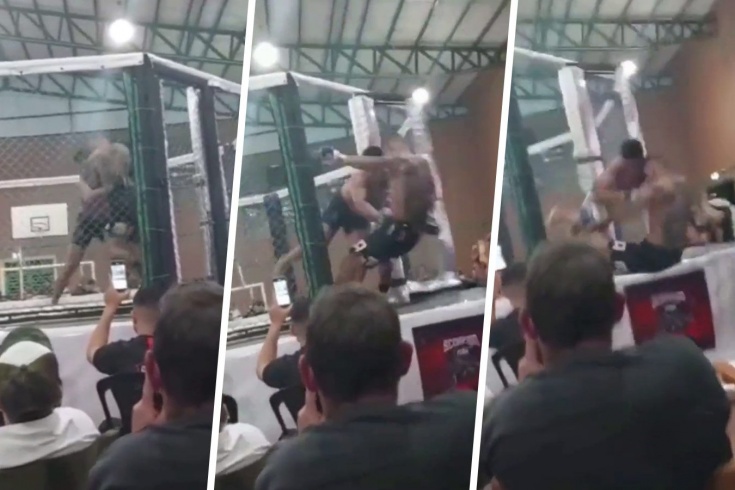 The winner of the fight was the fighter who was the first to return to the cage.
Some of us could get fed up with professional MMA with the execution of techniques honed to perfection. However, this routine gets boring at times. In such cases, semi-professional regional leagues come to the rescue, where at times extraordinary situations occur. So, in the Argentine League Number 1 Fight Series, Rafael Cruz and Gustavo Bazan graced the show already 20 seconds after the start of the fight. It is noteworthy that this was the main battle of the tournament, where 15 pairs performed.
From the first seconds of the meeting, Bazan went on the attack as a beginner who has been practicing martial arts for a couple of months. He repeatedly threw jabs with his head down. The problem is that he didn't see where he was hitting. So Cruz stepped back. Nevertheless, Gustavo again went ramming at his counterpart. And together with the pressed opponent, Bazan rammed the cage. And they flew out of the octagon, like in wrestling. It is worth making a clarification that they flew through the door.
Still, Cruz was the first to return to the cage, who, in fact, was taken out. But Bazan could not recover, as he hit hard during the takeoff. Therefore, according to the canons of wrestling, the victory was awarded to the one who returned to the octagon first. It seems that Rafael was not injured at all, since he posed for the photo as if nothing had happened. However, in such eccentric situations, the fight is declared invalid because one of the fighters was unable to continue the fight due to an accident. But, apparently, such episodes are in the order of things for the Argentine League.
It is also amazing that it was not heavyweights who did it, as is customary to observe in the same wrestling, but lightweights. That is, the conditional Khabib Nurmagomedov or Islam Makhachev could just as well fly out of the cage. At the moment of contact, a load of about 150 kg fell on the grid. Therefore, you should not jump on such a cell if you want to celebrate a victory.