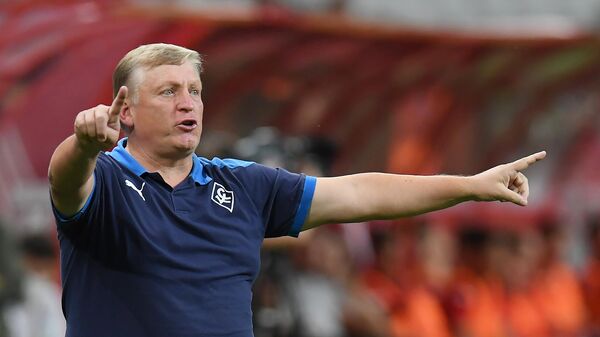 Igor Osinkin: the field in Grozny is slow, it took a long time to get used to it
MOSCOW, May 14 – The head coach of the Samara football club "Wings of the Soviets" Igor Osinkin at a press conference said that one of the reasons for the defeat in the match of the 29th round of the Russian Premier League (RPL) from the Grozny "Akhmat" was the state of the field.
On Saturday, the meeting in Grozny ended with the victory of the hosts with a score of 1:0. At the 56th minute, Akhmat defender Andrei Semenov was removed from the field for the second yellow card. The referee appointed a penalty, which was not realized by the guest player Yuri Gorshkov.
"The match was influenced by the fact that the field here is slow, with very tall grass. We adapted to it for too long. Maybe we didn't even adapt. We wanted to play faster football. We wanted the ball to move faster. But in terms of speed, "we didn't make it. Perhaps because of these very problems with the field. But the stretch, when we conceded the ball from an optional set-piece, plus an unforgettable penalty, affected the game. We had a good team against us. They just played with CSKA. We understood "It will be difficult for us. We could have squeezed more out of this match. Because of the slow field, we were not able to take what we could. It's already difficult to talk about psychology. On set pieces, we still lost to Akhmat, including due to growth We could play better, "- quoted Osinkin official website of" Wings of the Soviets ".
"Akhmat" won the third victory in a row and, gaining 41 points, rose to seventh place in the championship. Wings of the Soviets have the same number of points, but the team is ranked lower according to the results in personal meetings.
.