Where to watch the fight Harrison – Mokhnatkina
The tournament will be broadcast on the TV channel and network services ESPN 2 and ESPN+. The tournament will not be broadcast on Russian resources.
Kunchenko: I'm sure that Marina can pass Harrison
"Harrison is all embellished. We are all meat. Marina said the same thing. Therefore, there is no need to be afraid. And the fact that she is an Olympic champion in judo does not mean anything. We are in mixed martial arts. This is completely different. Marina is not weak either. She is an experienced, if I am not mistaken, seven-time world champion in combat sambo. Why is she worse? She moves well and fights well too. She is mentally prepared for battle. I talked to her. She is positive, everything is fine with her. She went to the fight in a great mood. She has no problems with weight, she drives a little. The fight plan is good. I liked him. The important thing is that she stick to her plan. For some reason, I'm sure that Marina can pass Harrison, "the fighter of the Archangel Michael club shared his opinion with the Championship. Alexey Kunchenko.
Read more on "Championship":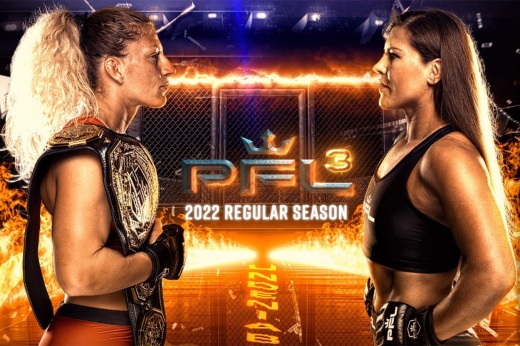 Kayla Harrison – Marina Mokhnatkina. Where to watch the lightweight title fight at PFL 3
Marina Mokhnatkina was lighter than Kayla Harrison before the fight at PFL 3
Marina successfully passed the weigh-in procedure. Mokhnatkina showed 69.9 kg on the scales. Harrison's weight was 70.3 kg. Both fighters hit the light weight limit.
What time is the broadcast of the fight Harrison – Mokhnatkina
The pre-card will begin on May 7, 2022 at 1:00 am Moscow time. The main card starts at approximately 4:00 Moscow time. The fight between Kayla Harrison and Marina Mokhnatkina will start no earlier than 6:00 Moscow time. "Championship" will conduct a live online broadcast of the tournament PFL 3: regular season – 2022.
There is no tricolor, there is "Archangel Michael"
Marina told why at the photo shoot she was not with the Russian flag, "Archangel Michael".
"We cannot go out with the Russian flag due to the current situation, the PFL logo will be on the shorts. Therefore, I was photographed with the flag of the Archangel Michael club, which I represent.
Read the full version of Mokhnatkina's exclusive interview on the "Championship":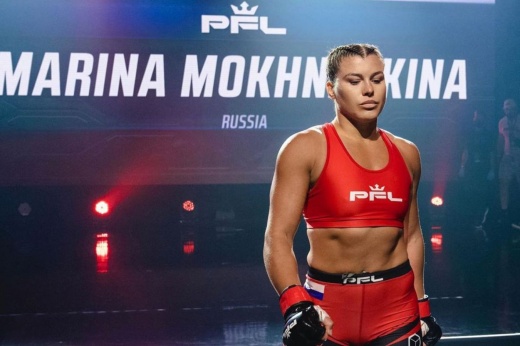 "I implement the plan – I finish ahead of schedule." Mokhnatkina – about the fight with the most dangerous girl in MMA
Full PFL 3 Tournament Card: Harrison vs. Mokhnatkina
Main card
Kayla Harrison – Marina Mokhnatkina – lightweight title;
Ray Cooper II – Carlos Lil Miranda – middleweight title;
Rory McDonald – Brett Cooper
Magomed Magomedkerimov – Joao Zeferino.
preliminary card
Jena Fabian – Julia Budd
Sadibu Si – Nikolai Aleksakhin;
Larisa Pacheco – Zamzagul Faizollanova;
Gleison Tibau – Jarrah Al-Silawi
Elena Kolesnik – Abigail Montez;
Vanessa Melo – Martina Zhindrova.