Evgeni Plushenko's childhood was not easy, but he still achieved success thanks to his talent and perseverance. Still, financial support during his career years would greatly help him in development. The two-time Olympic champion is sure that material motivation is very important for skaters, so he does everything so that his students do not need anything.
Alumni of the "Angels" have personal cottages on the territory of a luxurious sports base, fly on private jets and receive cash rewards for successfully performed ultra-si jumps. They also learn to make money outside the rink through advertising contracts and shows. Fabulous conditions!
So are the happiest athletes at the Plushenko school?
Plushenko suffered multi-million dollar losses for the sake of a dream
The ascent of Evgeni Plushenko to the coaching bridge was a big surprise for many. The two-time Olympic champion hurriedly tried to conquer the next peak, surprising the public with bold and original decisions. Nevertheless, the actions of the specialist cannot be called thoughtless and spontaneous – Yevgeny had a plan that had been ripening for many years.
The idea to open his own school came to him five years ago after an invitation from an acquaintance who had his own ice rink. According to Plushenko, he was interested in learning a new job, communicating with children, and he sincerely fell in love with it. Realizing that due to financial problems, classes in the section do not receive a proper impetus for development, Evgeny took everything into his own hands and provided ice rental at his own expense. Fortunately, the honored skater had funds for a large-scale project, and even losses of 12 million a year did not frighten the mentor.
"This is crazy money that I now spend monthly. This business, as many will say, does not bring any income to me. True, I can afford it," Plushenko admitted to Komsomolskaya Pravda.
Skeptical figure skating fans may say that Yevgeny is wasting huge amounts of money, living in a big way out of habit, but the coach's progressive view of big sport is quite logical and lies in the simple truth: it is impossible to grow future champions without powerful material support. That is why Plushenko does not spare money for his students, providing them with truly fabulous conditions.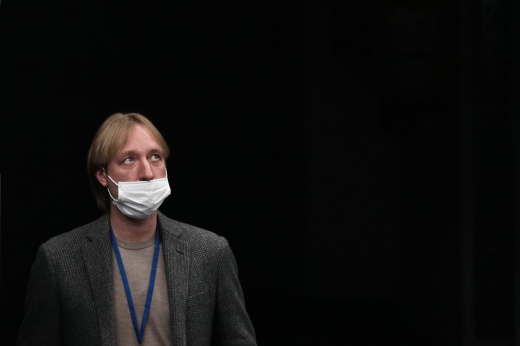 Scapegoat. Why Russian figure skating cannot lose coach Plushenko
"I earned this money with my work, career"
First of all, the specialist undertook to improve living conditions and began the construction of a luxurious training base for the Plushenko Angels in Gorki-10, not far from Rublyovka. The vast territory was quickly filled with cozy cottages along with a sports arena equipped with the latest technology. It houses a skating rink, halls for choreography and fitness, as well as a cozy cafe. Outside the ice palace there is a vast area for walking and cross-country skiing, a sauna and a restaurant.
The logistics problems that Evgeny faced during his own career, forced to spend a lot of time and effort on the road to the rink, are unfamiliar to his wards. Most of them live in specially prepared houses. Yulia Lipnitskaya, together with her husband, works as a coach for Plushenko, but after the birth of her daughter, it was difficult for her to combine family care with classes at the academy. The two-time Olympic champion entered her position and equipped a two-story cottage for young parents. A similar honor was awarded to Alexander Trusov and Alena Kostorna. The athletes lived and trained in an elite village and did not deny themselves anything: both brought dogs, which also found a place in the Angels.
Cottages at the Plushenko Academy
Photo: From Plushenko's personal archive
Naturally, such magnificence left no one indifferent. Along with enthusiastic comments, Eugene received a lot of criticism from fans who reproached him with excessive narcissism, but the specialist immediately stopped this stream with a loud statement.
"Beautiful houses that my athletes have settled in? Yes, we have opportunities. But I myself earned this money, with my own work, with my long career – I didn't just skate four Olympics and didn't take a penny from anyone, I didn't steal. Neither the state nor private investors," he told TASS.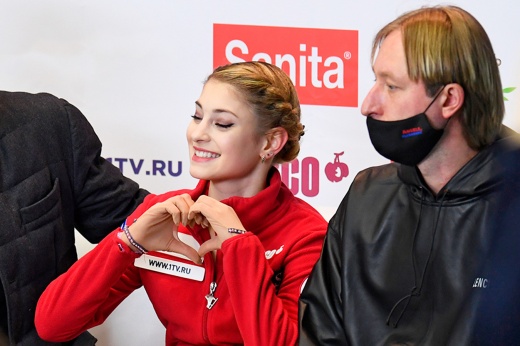 Plushenko created ideal conditions for Kostornaya and Trusova. To not leave?
"Those who will work here are very lucky"
Plushenko did not stop there and started expanding the territory. The new complex will be located near Vostryakovskoye Highway and, according to preliminary data, will surpass its predecessor in quality.
"Construction is in full swing. There will be something big. See: a professional ballet school (teachers from the Bolshoi and Mariinsky), a martial arts school (kickboxing, boxing, judo, sambo, tai), curling, figure skating, synchronized skating, pair skating, that is, all types of figure skating.
The most interesting thing is that those who will study here are very lucky, because there is a park nearby. That is, we can work out on the ice and go to the park area, where you can run, do physical training, enjoy the wonderful air. Of course, we are also waiting for hockey players, "Plushenko said on his social networks.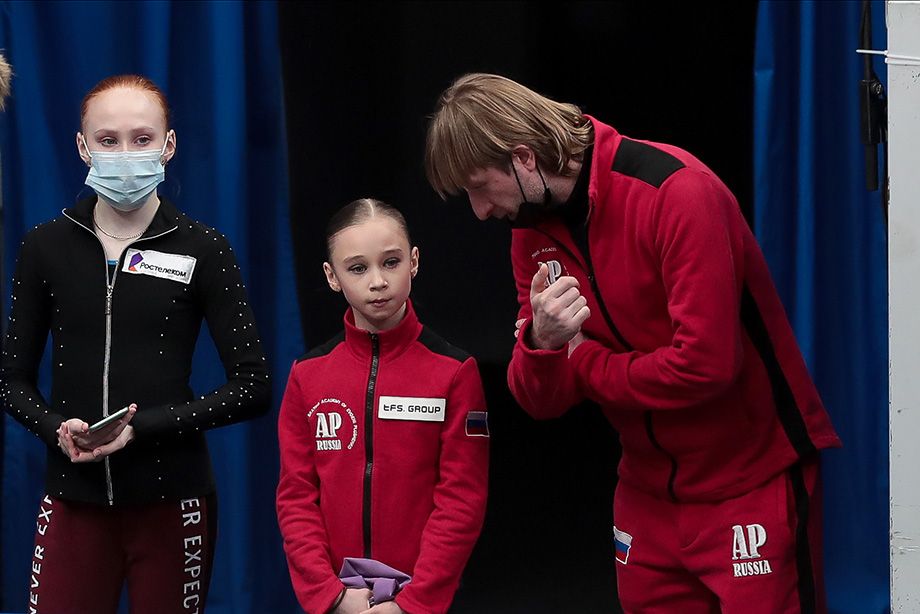 Evgeni Plushenko and Veronika Zhilina
Photo: Alexander Safonov, "Championship"
"Envelope with babosiks" and an iPhone for ultra-si
Eugene's students also enjoy other privileges. Flights on a private jet, trips to training camps and a special reward system that the specialist introduced to motivate young skaters. The head of the "Angels" gives the pupils money for the most complex elements performed purely. Jumping quads, like Nikita Sarnovsky, you can, for example, get an "envelope with babosiks". Sofya Titova received the 12th iPhone for the triple axel.
Plushenko does not skimp and generously rewards his wards for successful performances and prizes in competitions.
"Not everyone and not always, but almost everyone. For prizes. Or someone made the first triple jump – I give him five, 10, 15, 30 thousand rubles, "Yevgeny shared his prices in an interview with Tatler.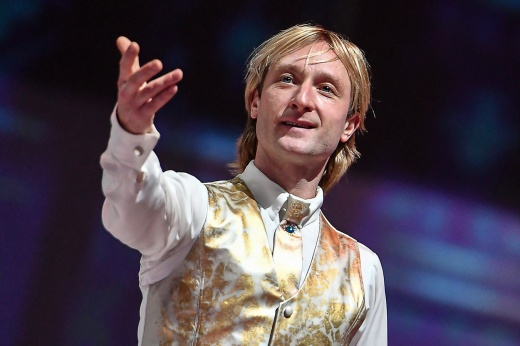 PR in Russian. Plushenko's working methods irritate fans, but they are the future
The mentor does not rely on funding from the Russian Figure Skating Federation, noting that their amounts do not cover the cost of programs, dresses and other needs. For his stars, Plushenko invites the best specialists, paying them out of his own pocket. In addition, the coach helps athletes earn money outside the rink: advertising contracts, participation in various shows, fashion shows – Evgeny also does all this.
The famous champion knows the real secret of success and shares his experience with the younger generation. He does not mind spending hundreds of thousands on his wards, so we can safely say: the happiest skaters are in the Plushenko school.