Sergey Kovalev – Tervel Pulev. Where to watch Crusher's first fight after 2.5 years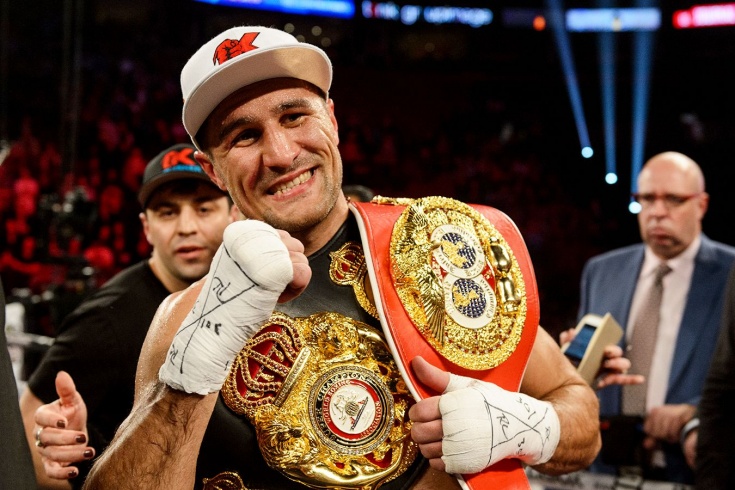 The Russian boxer will make his debut in the first heavyweight division.
Date and time of the tournament
The fight between Sergey Kovalev and Tervel Pulev will take place on the night of May 14-15 Moscow time in Inglewood, California. In addition to the main fight, five more fights will take place as part of the boxing evening.
The main match starts on May 15 at approximately 4:00 Moscow time. "Championship" will conduct a live online broadcast of the fight between Kovalev and Pulev.
Live Stream
The broadcast will be hosted by Triller Fight Club, which traditionally operates on a pay-per-view (PPV) system. There is no information about the showing of the duel between Crusher and Pulev on the territory of the Russian Federation.
Full tournament card
Sergey Kovalev (34-4-1) – Tervel Pulev (16-0) – 10-round fight in the first heavyweight;
Kubrat Pulev (28-2) – Jerry Forrest (26-4-2);
Evan Holyfield (9-0) – Jermaine McDonald (6-5);
Fernando Vargas (5-0) – Terrence Jarmont (3-0);
Amando Vargas (3-0) – Anel Dudo (1-3);
Emiliano Vargas (debut) – Mark Salgado (1-1).
Materials about the fight
Expert opinions
"We all haven't seen Kovalev for a long time and we understand that in light heavyweight he is the coolest boxer in his weight. But what it will look like now is a finger to the sky. If he enters the ring, then he must look good. And I hope he will be in good shape. While we do not understand how he will box at this weight. I think it will be a competitive fight anyway," said Grigory Drozd in a conversation with the correspondent of the "Championship" Yevgeny Narizhny.
"It all depends on how he spent all this time, what he did. If he prepared, trained, if he is motivated… He has a Soviet boxing school. And the base that he has, it certainly has not gone away. The main thing is that he has been training for the last few months, "said Vyacheslav Vasilevsky in an interview with the correspondent of the Championship, Yevgeny Narizhny.