Instant karma. The Brazilian kicked the Russian fighter in the salute and was immediately punished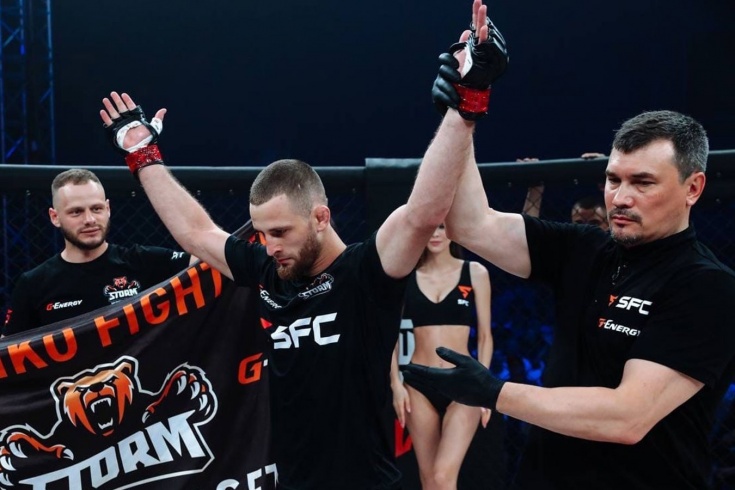 A dirty deed against a student of Alexander Shlemenko turned into a knockout.
On the evening of May 18, Omsk hosted the tournament promoted by Alexander Shlemenko SFC 4. In the main event, former Bellator champion Andrey Koreshkov faced Brazilian Leonardo da Silva, and in the co-main event of the evening, Alexander Osetrov beat William Lima.
Questions about the qualification of the Brazilians at the Omsk tournament arose immediately, despite a decent record. According to Shlemenko, Koreshkova's opponent was selected, among other things, on the basis of this indicator. But none of the defeated rivals of Leonardo da Silva had a positive record, at best – 0-0.
Doubts were also in his compatriot, who fought with Osetrov. Lima won a couple of decent opponents, but most of his scalps are guys with a negative record – 1-3, 0-2 and even 0-12.
William Lima probably realized that he had little chance against a strong student of Alexander Shlemenko, so he used a mean trick – he hit Osetrov during a friendly greeting before the start of the fight. It is not clear what Lima expected from the low kick, but the Russian fighter was not embarrassed and immediately responded with a high kick, knocking the Brazilian down, after which he began to beat him.
The rights to the video belong to SFC. You can watch the video on Alexander Shlemenko's YouTube channel.
From the moment of falling onto the floor, Lima lasted 40 seconds – he survived under the blows of the Russian and tried to get up, but Osetrov mercilessly punished him for his dirty act. When Alexander brought several accented hammerfists to the opponent's head, the referee could not stand it and stopped the fight.
Osetrov easily won and gave a good impetus to Andrey Koreshkov, who came out and dealt with Leonardo da Silva no less confidently. The fights looked completely uncompetitive – we are waiting for the budget of the Alexander Shlemenko tournament to grow and we will be able to watch really powerful confrontations.