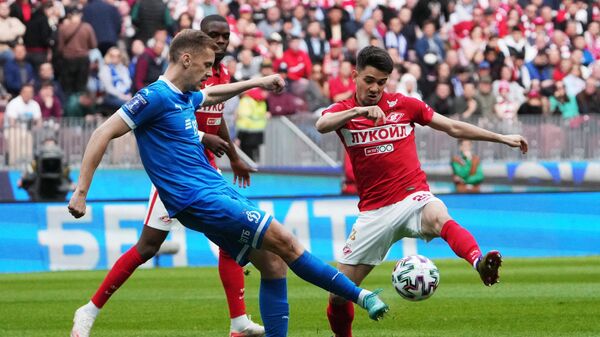 Shunin about Fomin's mistake: he has nothing to apologize for
MOSCOW, May 29 – Goalkeeper and captain of the Moscow Dynamo football club Anton Shunin supported Daniil Fomin, who did not convert a penalty in the Russian Cup final.
Dynamo on Sunday lost to Spartak in the Russian Cup final with a score of 1:2. In the 10th minute, the goal was scored by Alexander Sobolev, the striker of the Red-Whites dedicated the goal to his mother, who died in August 2020, another goal was scored by Quincy Promes (72nd minute). Dynamo scored Arsen Zakharyan (55). In stoppage time of the second half, Dynamo midfielder Daniil Fomin missed a penalty, breaking above the gate. Prior to that, Fomin converted 23 penalties in a row.
"I would like to support Fomin, he is one of the leaders of our team. This season he scored seven penalties, did not miss for a long time. In this situation, the whole team supported him, although he tried to apologize, but there was nothing to apologize for – he took it upon himself responsibility to take a penalty at such a difficult moment. He shot, but it's okay. We are one team, one family, this is how a family is known in trouble," Shunin told reporters.
"I don't want to criticize the actions of my partners. Moreover, I would like to thank our team for this season that we gave out. Even though few believed in it, we made a huge leap forward. Many teams began to fear and respect us. This is the merit of our coaching staff , who built up the atmosphere of the team for two years. It was not easy for them to change our style, our game, to explain, to fall in love with that aggressive football, so that there was pressure. I am very glad that we were dissatisfied with the season, there was a residue from the third place, " he added.
Following the match, the head coach of Dynamo German Sandro Schwartz announced his resignation from the club. "We will have an evening ahead of us when Sandro Schwartz will once again say that he is leaving the club. Today it is very disappointing, because for two years he has been building the team, but this is life, and we will all move on," the goalkeeper concluded .
.