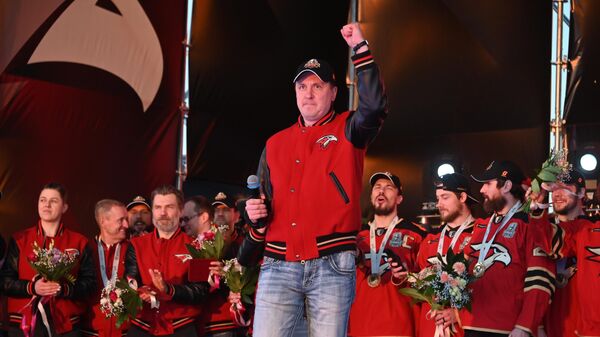 Avangard general manager: Swedes and Finns can let you down, with the rest of the legionnaires in touch
MOSCOW, May 13 – The general manager of the Omsk Avangard hockey club, Alexei Volkov, said that contract offers had been made to all legionnaires who played for the team, except for Finnish and Swedish players.
In March, Finnish defenders Oliver Kaski and Ville Pokka terminated their contracts on their own initiative and left the club.
"I think everything is obvious here. Both the Finns and the Swedes themselves have expressed their position. The masks have been torn off, so I have no desire to continue cooperation with them, since they can fail at any moment and do not hide their world position. Now we worked out the issue of obtaining visas for individual players of the so-called "unfriendly countries". North Americans, including Canadians, do not have such barriers as other countries have. North Americans are, in principle, a solvable issue, and this will be at the forefront, " – quotes the words of Volkov, said by him at a press conference, the official website of Avangard.
"According to (Corban) Knight – we have a conversation with him personally and monitor his mood. I won't say that it is ideal, but he did not turn away from the conversation, from accepting our offer, which is quite impressive in numbers. Corbin is such a whole person, so blond, his dad is a pastor and when Bob Hartley was head coach of Calgary, he was the person on the team that the guys could come to talk about their problems. And when we talk with Corbin, he is really honest, and he said that if If he wants to come to Russia, then first of all he will, of course, consider our proposal," the general manager of the club said.
Volkov also commented on the situation with the contract of the Czech goalkeeper Shimon Grubets. "Shimon and I are in touch. Indeed, there are various rumors, they are heard, but at the moment I do not have any specific information about his decision. He has a valid contract – we will stop there. As soon as there is some information on his Whether you want to come or not, we will notify you immediately," he said.
"We will definitely not go through the "freezing" of contracts with legionnaires in order to get them in a year. We will either break the contract with Shimon, or rather, he will break with us and pay compensation. Or he will play for us. But we definitely won't wait a year for him ", – said Alexander Krylov, chairman of the board of directors of Avangard, who also took part in the press conference.
.