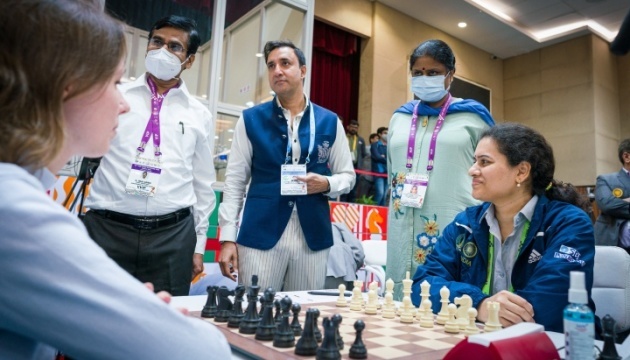 At the World Chess Olympiad in Chennai, in the eighth round, the decisive match of the women's part of the competition India – Ukraine took place.
To fight for the title of Olympic champions, only victory suited ours. The hosts of the competition are in the lead very confidently. The duel took place in the fiercest struggle and ended in the last seconds of the game day.
The most difficult task was facing the leader of the Ukrainian team Maria Muzychuk. After all, she played Black with the rating favorite of the entire Olympiad, Humpy Koneru. Nevertheless, Maria played the opening well (the Nemtsovich Defence) and fairly confidently equalized the game. In the end – a draw.
Maria's sister, Anna Muzychuk, did not gain any advantage with White in the Italian game against Harika Dronvalli. Moreover, the position caused certain concerns. However, she clearly defended herself and also brought the game to a peaceful result.
Natalia Buksa also failed to outplay Tanya Sachdev with white, and this was the third draw. The last duel remained between Rameshbabu Vaishali and Anna Ushenina.
The Ukrainian chess player gradually outplayed her opponent, and a four-round endgame appeared on the board with Anna having great chances to win. She brought the position almost to a winning one, but, unfortunately, she made a mistake and allowed her opponent to save the game and the match. The final score is 2:2.
The Ukrainian men were unable to defeat the Brazilians, who in chess lack the stars from the sky. As far as I know, neither Pele nor even Dodo play for them… Yuri Kuzubov lost, Anton Korobov and Kirill Shevchenko played in a draw. And only Vladimir Onishchuk gained the upper hand with Black. So, 2:2.
Read also: After the fifth round of the Chess Olympiad, our teams will have to catch up
The Armenian team continues its victorious march, having beaten the Indian team – 2.5:1.5. But the second team of hosts sensationally beat the Americans – 3:1.
Peter Marusenkointernational master.
Photo: fide.com.