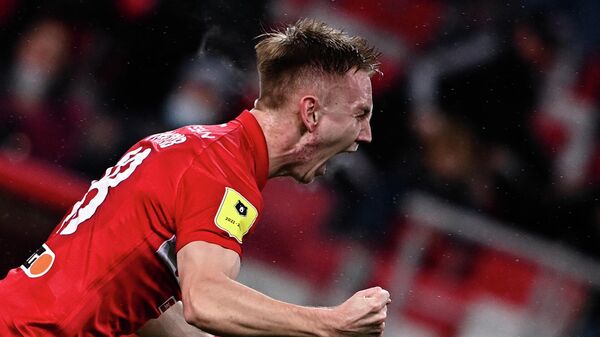 Umyarov told how he interfered with Fomin before a penalty in the final of the Russian Football Cup
MOSCOW, May 31 – Midfielder of the Moscow "Spartak" Nail Umyarov said that several times he prevented the midfielder of the capital "Dynamo" Daniil Fomin from taking a penalty at the end of the final match of the Russian Football Cup.
On Sunday, Dynamo lost to Spartak in the Russian Cup final with a score of 1:2. "White-blue" had a chance to transfer the meeting to a penalty shoot-out, having received the right to a 11-meter kick in stoppage time of the second half, but Fomin missed.
"Since childhood, I myself don't like it when you shoot a penalty, and someone tries to interfere, time drags on forever and you start to get nervous. But there was such a case that all means are good when they put a penalty in such a situation. I think that the fans had a strong influence, Maksimenko started them before the strike, it was very noisy. I think this also played an important role before the strike," Umyarov wrote in his Telegram channel.
"I came up to wish good luck and shake hands with Dana, he didn't shake, he tuned in … Then I say:" Hit the left (corner), Maxi won't beat off the left. Hit, you won't make a mistake. "He is still silent, I decided to choke him more:" Scored 17, you will miss on the 18th. For some reason, the number 17 was in my head. ". And what happened next, you know for yourself. In fact, I don't know, of course, whether it affected him, maybe he didn't hear anything at all. Well, respect to Dana Fomin anyway. So long from the "point" without a miss beat. But this is football, everyone can make a mistake," Umyarov added.
.