Emil Raikovich is the new head coach of CSKA. The news, which is still difficult to comprehend and even more so cannot be called a sensation. Although the appointment itself went surprisingly quietly – not a single insider named the Macedonian specialist among the main candidates. Moreover, literally a couple of days before the announcement, many journalists were confident that the head coach of the Russian national team and Nizhny Novgorod Zoran Lukic would take the vacant seat after the departure of Dimitris Itoudis.
Emil Rajkovic is probably well known to many basketball fans in our country. Especially those who looked towards the VTB United League. In 2018, he headed Astana, and the team miraculously rushed up and immediately turned from outsiders into a strong middle peasant. A historic hit in the playoffs from sixth place and a prize for the best coach of the VTB League at the end of the season.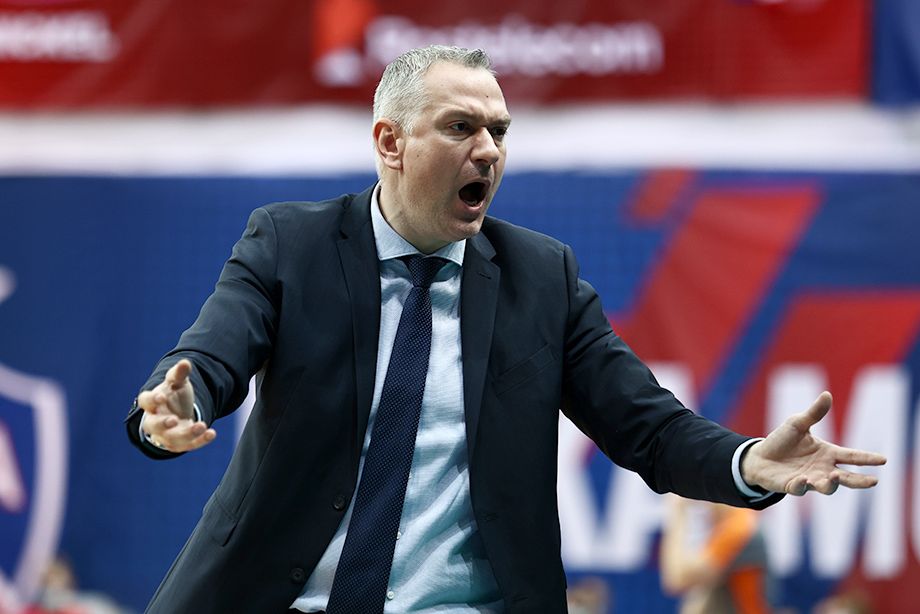 Emil Rajkovic during the match with CSKA
Photo: Ira Somova, VTB United League
It was during the first season in the VTB United League that I managed to talk with the club's mentor from Kazakhstan. This was his first interview for the Russian media. I clearly remember that Raikovich surprised me with his knowledge of Russian. He did give interviews in English, but before and after turning on the cameras, we communicated in Russian. That conversation was organized for the television magazine View from Above, and therefore it was not in print. With the permission of colleagues, the records were taken from the archive and deciphered.
— Emil, tell the Russian basketball fans how your career began.
– As a basketball player, I spent many years at Rabotnichki – this is one of the best clubs in Macedonia. Passed the path of junior and youth national teams to the adult team. In 1999, I was on the extended list of the national team for the EuroBasket trip to France. Was in the extended list of 15 players, but did not make it to the final 12. We had a strong generation back then: Petar Naumovski, Vrbica Stefanov, they were very good players and a team.
You know, I didn't end up being the player I thought I would be. I wanted to play in the Euroleague and planned to become a really good sniper. Unfortunately, there were injuries in my career and at the age of 27 I decided to stop and stop playing basketball. He began his coaching career immediately after the end of his playing career, and it still continues.
– Who would you like to be like in coaching?
– Even when I was a player, I spent one season in Aris. And then the team of Zeljko Obradovic ("Panathinaikos". – Approx. "Championship") there were some problems with the arena, and they trained in our gym. Every time I stayed after my workouts and watched him train. Even then, he was an example or an idol for me in terms of coaching. I wanted to reach out to him.
Once we organized a coaching seminar in Macedonia, and I called Zeljko Obradovic and Dimitris Itoudis to invite them as guests. Then there was an opportunity to communicate personally and gain knowledge.
I was also lucky to work with Aleksandar Dzhikic. This is one of the best Yugoslav specialists. He worked in the NBA, together we were on the coaching staff of the Macedonian national team. Then I was his assistant.
Probably, these coaches have influenced my career the most. But I follow the American specialists and their style a lot. Because now we can no longer divide basketball into European and American – it has become universal.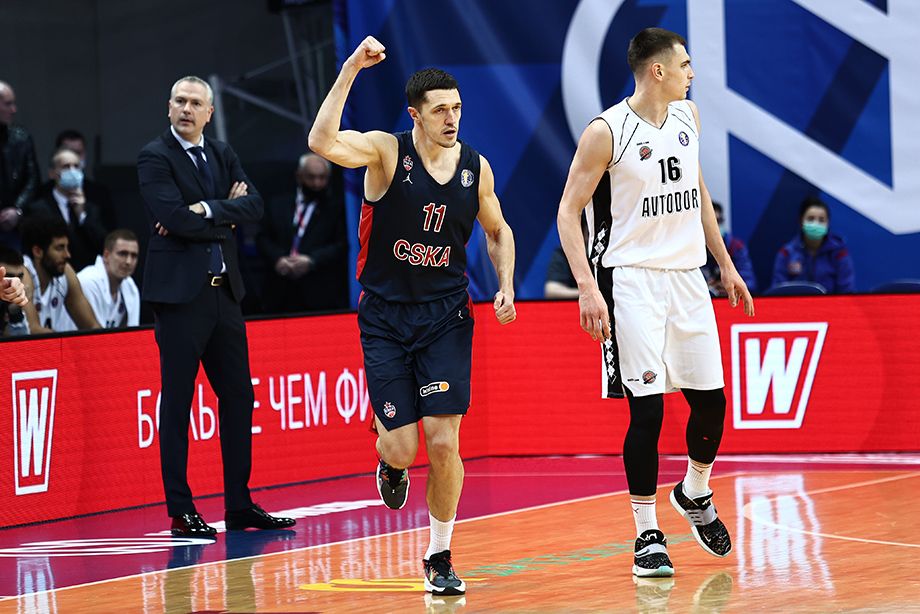 Semyon Antonov celebrating a hit
Photo: Ira Somova, VTB United League
— How did you end up in Astana?
My agent contacted me a couple of years ago. He wanted to calmly find me a team in the VTB League so that I would show my potential. It didn't matter what country the team would be in. The main thing is the chance to play with top clubs: Loko, UNICS, CSKA, Khimki. This is the main reason why I signed a contract with Astana. And I think that I did not lose.
– How do you feel about the fact that coaches are very often fired for several defeats? Do you think this is fair?
– More experienced coaches, such as Zeljko Obradovic or David Blatt, have the same opinion on this issue. It may seem that we are simply defending the profession. But to be honest, now there is a lot of pressure on the coaches. Presidents, general managers, owners… no, they don't break the systems, but they don't give the club a chance to develop. Not to this coach, but to his club. The coach, in my opinion, should be given a chance to show what he has to show.
— What is the secret of Emil Raikovich's success?
"I never guess anything. I have minimum goals for the season, but I always try to achieve the best. If you ask if I'm surprised by the current results of Astana… How can I be surprised if I know how much we worked for this?! We really live basketball these eight months. For example, my assistant had a wedding anniversary. We got together, turned on the music, poured some wine, but on one of the computers we watched Khimki – Maccabi, and on the other – Valencia – UNICS. And all this happens not because we need and we are forced, but because we really love what we do.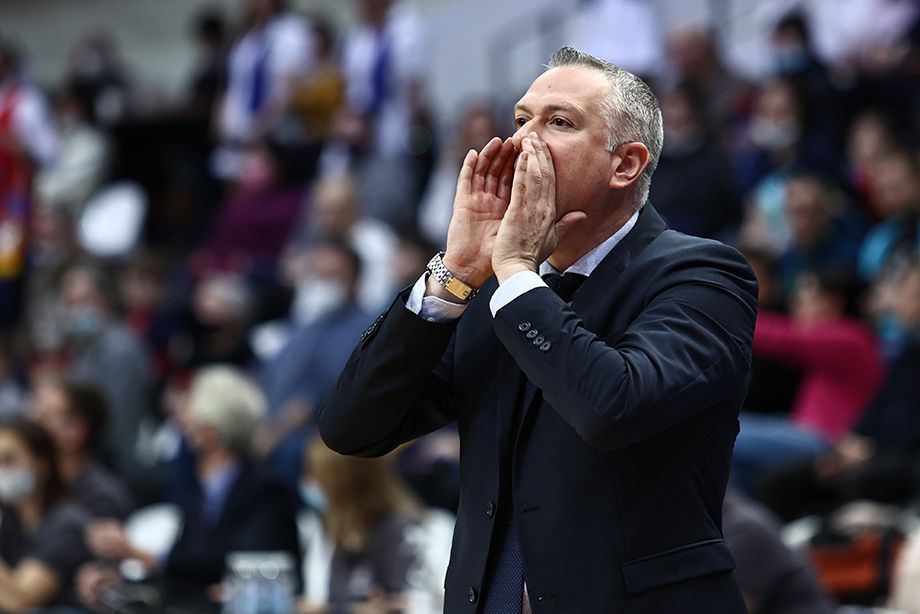 Emil Rajkovic during the match
Photo: Ira Somova, VTB United League
Raikovich spent the 2021/2022 season at Avtodor. In Saratov, they like to put pressure on coaches, sometimes changing them more often than gloves from everyone's favorite saying. But the amazing thing is that Raikovich left on his own, and by the middle of the season his team was in the lead in the VTB United League. And this is without a single player of the level of a full-fledged star by the standards of European basketball. Well, do not consider Philip Scrubb the same star?
It was last season that once again proved the versatility of Rajkovic as a coach. He is modern, quick in making decisions and, it seems, does not know where his limit is. I would like to believe that the Macedonian coach will be just as successful in CSKA as with all previous teams.