So no one humiliated the Ukrainians! The Briton spat at Klitschko Jr. and gave a slap in the face to the elder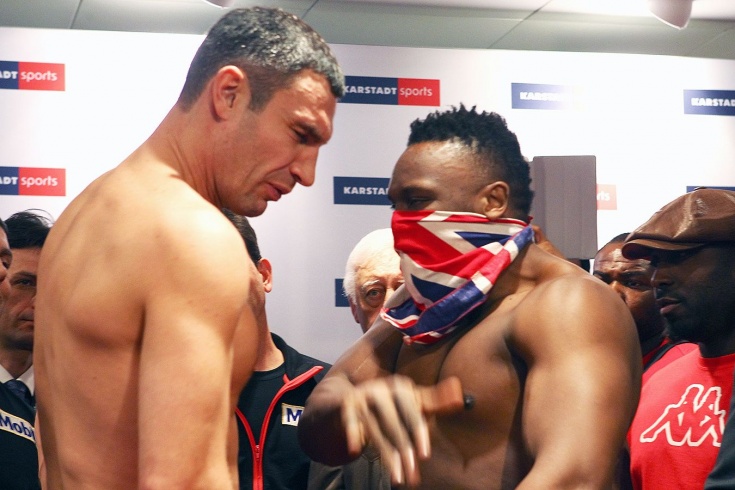 Vladimir and Vitaly showed miracles of restraint.
British boxer Derek Chisora ​​has announced his retirement at the age of 38. A huge guy nicknamed Del Boy did not manage to get to the main championship belts, but left a bright mark on heavyweight history. Derek spent 45 fights in the professional ring, having managed to fight with Tyson Fury, Dillian Whyte and Alexander Usik. But, perhaps, the great Ukrainian boxer Vitali Klitschko became the main rival in Chisora's career.
On February 18, 2012, for the first time in his career, the Briton got a chance to win the WBO belt, which was then owned by the eldest of the Klitschko brothers. Chisora, who was in the prime of life, assured that he would easily deal with Vitaly, whom he called "the old man." However, experts and fans had a different opinion: even though Klitschko was already 40 years old, he was on a series of 11 victories. But Del Boy lost a few months earlier to the strong, but not stellar Robert Helenius.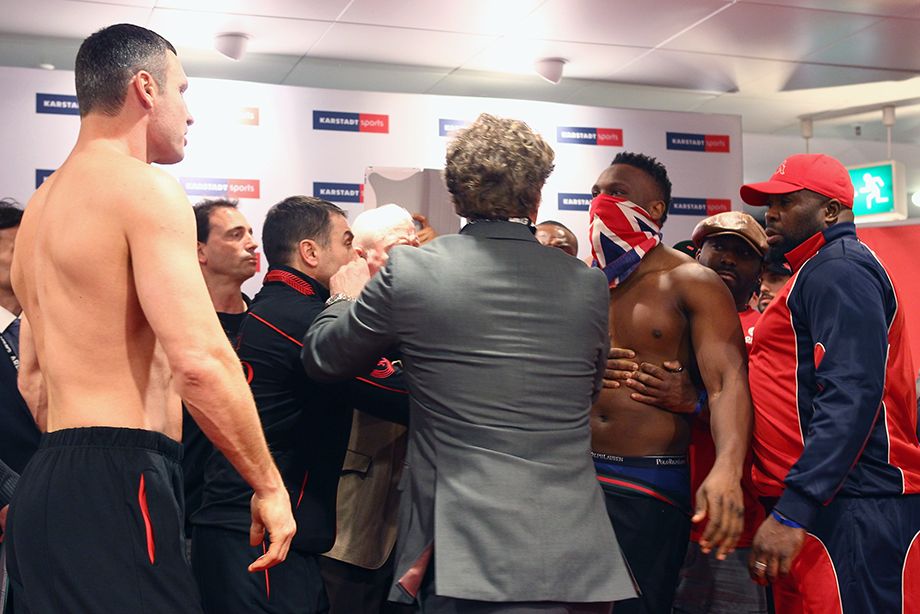 Vitali Klitschko – Derek Chisora
Photo: Alexandra Beier/Getty Images
Klitschko demanded that the fight be held in his actual native Germany. Derek agreed, but promised to give Vitaly a real psychological attack. And he kept his word! Chisora ​​showered his opponent with various insults for several weeks, and at the weigh-in he completely slapped Klitschko the elder in the face. Moreover, just before the fight, Derek spat water in the face of Wladimir Klitschko, who was playing the role of a second! So Ukrainian boxers have not been humiliated by anyone yet.
We should pay tribute to Vitaly and Vladimir – they showed maximum composure, which looked much more worthy than Derek's clown antics. In the ring, Klitschko Sr. was also good: not succumbing to psychological attacks, the Ukrainian calmly interrupted his opponent, taking round after round. It was not possible to knock out Chisora, but the Briton scratched out only a couple of rounds and lost by unanimous decision. And after the fight, Derek had a noisy brawl with compatriot David Haye.
It should be noted that Del Boy later apologized: "Usually I take water in my mouth and spit it into the air. But here, suddenly, the referee called us to the center of the ring, and I spat it in the face of Vladimir, who was standing in front of Vitaly. Don't ask why, it just happened. It's the same with the slap, I don't know how to explain it. I am very upset, because because of the scandals, my performance has faded into the background. I regret my actions, but I have to move on."
Chisora's disgusting behavior did not pass by the boxing authorities: Derek was fined $ 100 thousand and deprived of his boxing license for several months. Later, the Briton fought for another 10 years with varying success, without becoming a world champion. Unlike Klitschko, who had another fight as champion, quickly knocking out Manuel Charr. After that, with a pure soul, he retired, forever writing his name in the history of boxing.