The past season was very dramatic for Mikhail Kolyada. All difficulties fell on the skater right before the Olympics: loss of leadership in the national team, unexpected injury, coronavirus. Misha was never rehabilitated for the failure in Pyeongchang, which was the end of the whole cycle. The fans were sure that after such a blow of fate, the 27-year-old skater would hang up his skates and go into a new business. But Kolyada surprised everyone.
Misha seemed to start life from scratch. He not only announced the continuation of his career, but also changed his image, began to actively lead social networks. Usually serious and laconic, now he shoots videos and communicates with fans with pleasure.
The insulting skipping of the Olympics in Beijing did not unsettle him. Kolyada boldly builds sports plans and is ready to experiment not only with appearance, but also with hopping content.
Withstood the impact of the Olympic season
The past season for Mikhail Kolyada was full of trials. Problems pursued him from the first starts. He did not succeed in performing cleanly, and the new free program "Schindler's List" faded greatly against the background of last year's "White Raven". For the Russian championship, Alexei Mishin nevertheless returned Nureyev to his ward, but even with this amazing production, Kolyada took second place in the national championship. 18-year-old Mark Kondratyuk unexpectedly snatched the victory from him.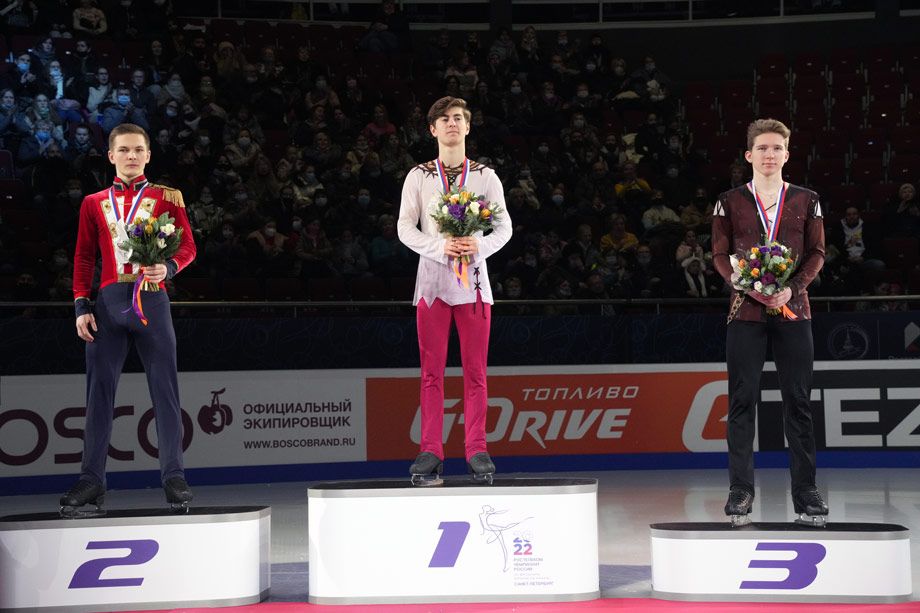 Mikhail Kolyada, Mark Kondratyuk and Andrey Mozalev on the podium of the Russian Championship – 2022
Photo: RIA Novosti
Nevertheless, Misha was still considered the leader. Experts and fans hoped that he would be rehabilitated at the European Championship. But an injury prevented him from going there. And right before the training camp of our Olympic team, the skater passed a positive PCR test. The road to Beijing was closed to him.
However, all these troubles did not discourage Misha from continuing his career – he returned to training and got involved in preparations for the new season.
"Naturally, anything happens in life, and you have to be ready for everything. As Alexey Nikolaevich says (Mishin. – Approx. "Championship")you need to be able to take a hit, "Kolyada said on the air of the Russia 1 TV channel.
The athlete is excellent at holding the blow. Moreover, this off-season, he surprised with a change of image: he dyed his blond hair into an ashy blond. But he was transformed not only externally, but also internally. We have not seen such an open and cheerful Kolyada for a long time!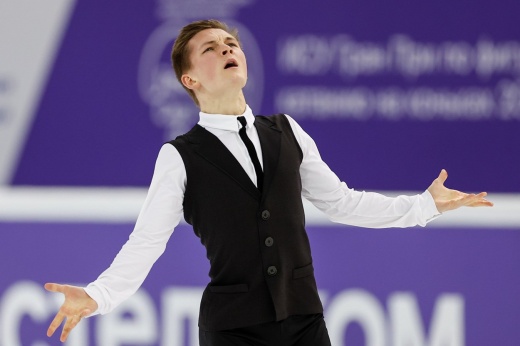 "Mentally, he was completely killed." The personal tragedy of figure skater Mikhail Kolyada
Changed externally and internally
With a new hair color, Kolyada was noticed during the gathering of the Mishin group in Kislovodsk. Fans did not immediately attach importance to this: they thought that his hair was badly burned out. But they soon realized that the skater really painted himself. And very successfully: blond hair added freshness to him and rejuvenated him for several years.
"I wanted to try and I did. This means nothing. I was just on vacation and got my hair done. It started with the fact that when I was sick with covid, I saw an advertisement on the Internet – choose your hair color. I chose an ash blonde, looked good. And when we went on vacation, we decided: when, if not now? I like it, I was satisfied with the result, "Kolyada admitted in an interview with the FFKKR.
And I also got the impression that external changes also led to internal ones: Misha began to actively maintain social networks, record videos for fans, regularly post photos and write small posts. Even opened the comments! Fans were pleasantly shocked by his activity.
By the way, in the photos Misha smiles, but in the video he is friendly and confident. It is impossible to think that before this athlete was considered closed and suspended. Feedback from viewers from the Plushenko show confirms: Kolyada is happy to communicate with fans in real life. He takes pictures with everyone and does not refuse autographs.
"He is not only great as a skater, but also as a person! We were all in shock. He left the service entrance. I took pictures with everyone and left autographs. I didn't jump from anyone and didn't run into the bus! Although a lot of journalists said that a person does not give interviews and does not communicate with anyone at all! It's not like that guys, don't believe it!" – the fan shared her impressions of the meeting with Kolyada after the show "Union of Champions".
Misha has changed internally, and this is good news. He became more open, began to actively communicate with the fans, began to perform in shows with a double, if not triple dose of enthusiasm. I can't even believe that this is the same skater who used to hide a smile behind a mask of seriousness. As if he decided to reboot and start his sports life from scratch.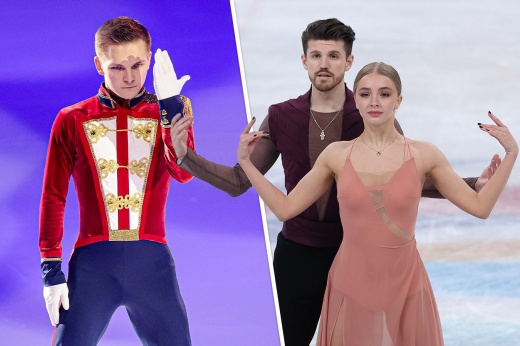 The Federation framed Kolyada – he could speak at the Olympics. But what have Stepanova and Bukin got to do with it?
"I am convinced that I have not reached my ceiling"
For Misha, this Olympic cycle, albeit without a trip to Beijing, ended on a high note. The skater showed himself well at the Channel One Cup, despite the fact that he did not have time to fully recover from the consequences of the disease. He needed to feel in the cage again and go out on the ice in front of the audience. And no matter how insulting it was to be left without the main start of the four-year period, this did not become a drama for him. He took a deep breath and let go of the situation.
"I thought, as long as there is health, desire and motivation, I need to ride, because I will always have time to train and I need to use what I have now. I have potential and I want to realize it. I am convinced that I have not reached my ceiling, "Kolyada said in an interview with the FFKKR.
This confidence of Misha and the desire to develop is like a balm for the soul of all fans. He really has something to surprise, in addition to the blond and activity in social networks. For example, the athlete plans to include a quadruple lutz in the content. The start of the next Olympic cycle is the perfect time to try something new.
So we are waiting for Mikhail Kolyada next season with interesting performances and invariably beautiful skating. It seems that he is ready to please the audience for a long time. And this is a huge gift for our entire sport.