The unique figure skater Alexandra Trusova has crossed the threshold of her 18th birthday. The Russian rocket has grown, but the incredible quadruple jumps, contrary to all forecasts, have not left it. Over the years, Sasha only became more powerful and more self-confident. Trusova showed her peak at the age of 17 at the Beijing Olympics, where she performed five quadruple jumps! It seems that fate itself ordered Alexandra to enter the history of sports, because she was born on June 23 – International Olympic Day.
Sasha started a new era in figure skating with her quadruple jumps. It is even surprising that initially the study of quads was not part of her plans, she dreamed of mastering a completely different jump. And she became a Russian rocket after a failure, which eventually brought her to the top.
"I wanted to jump the triple axel. I asked Eteri Georgievna about this for a long time "
When 13-year-old Alexandra Trusova started trying the quad salchow in competition, few believed in her. Even the triumphant victory at the junior world championship with two quads did not convince skeptics that the Sasha phenomenon is for a long time. Like, quads are given to her at the expense of the child's body, and as soon as the miracle girl grows up, nothing will remain of them. Trusova grew up, turned into a charming girl with a beautiful figure and gave out a free program with five quads at the Beijing Olympics. Sasha proved that her space jumps are not a transient phenomenon, but a permanent combat unit. For five whole years she has been demonstrating quads at every start and worthily bears the title of "queen of quads".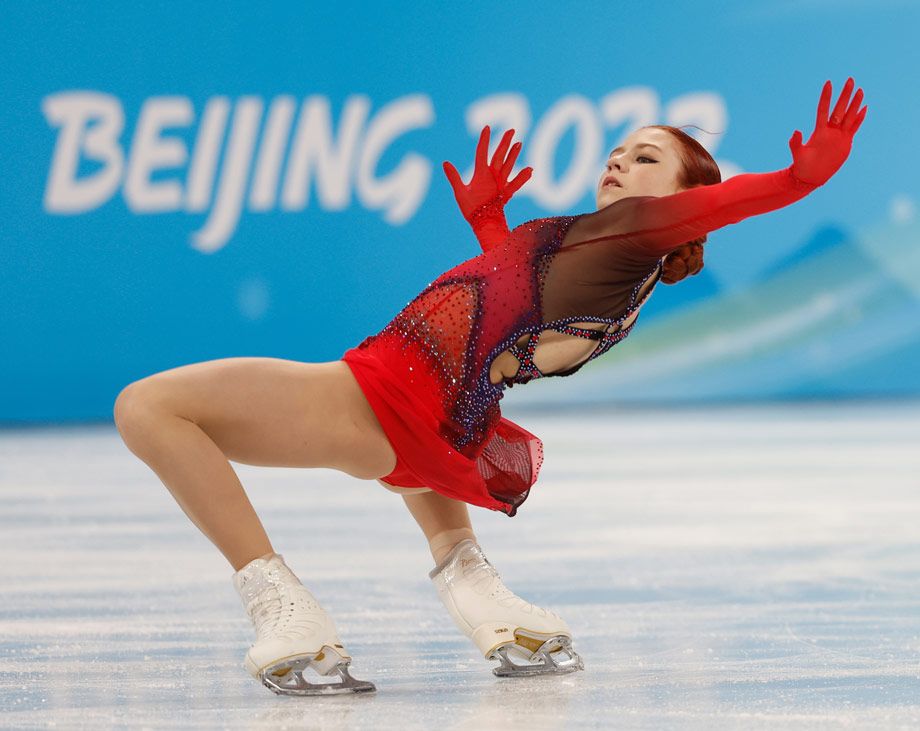 Alexandra Trusova at the Olympics
Photo: Alexander Safonov, "Championship"
But initially she did not even think about learning quads. Although she has strived to push the boundaries of the possible since childhood. The goal of little Sasha was another jump – a triple axel. It was this insidious element that she hoped to conquer and incorporate into her programs.
"I always wanted to do what no one does. But at first we didn't think about quads – I wanted to jump a triple axel. I asked Eteri Georgievna about this for a long time, and finally she said: "Come on," said Alexandra Trusova in an interview with Soviet Sport.
It was no coincidence that Tutberidze slowed down the pupil: she understood that at the height of the season, learning a new jump, especially ultra-si, was not the best idea. Sasha had to wait for a break between competitions before rushing to conquer the triple axel. However, he did not want to submit. How to be in such a situation? Accept or continue to hammer the insidious jump? Neither one nor the other. It turned out that there is a third option – to try quads. The coaches guessed that Sasha had to deal with them.

Zagitova's records fell! How Trusova rewrote the history of figure skating
"I am not a poor child"
The road to space at the Russian rocket began at the age of 12 with a quadruple salchow. She first landed it in training on the 20th of April 2017. It took her about two months to succeed. In honor of the significant event, Sasha's parents gave Sasha a beautiful piece of jewelry – a bear on a chain. For a while, she constantly carried it with her. It was almost like a talisman. Maybe she wears it now?
Having learned the quad-salchow, the skater said goodbye to the standard content in the free program. She moved to juniors and broke into the international arena with a hitherto unrealistic jump for girls. The whole world shuddered when a fragile girl, albeit with underrotation, showed a quadruple at the Grand Prix stage in Australia. Some admired, others did not believe that one day she would jump cleanly. And someone even felt sorry for the athlete, who was allegedly crippled by an exorbitant load. Sasha, on the other hand, answered all lamentations: she herself is eager to fight.
"I am not a poor child. Nobody forces me to do what I do. On the contrary, coaches sometimes stop me: "You jump too much! You don't need so much!" Trusova said in an interview with Soviet Sport.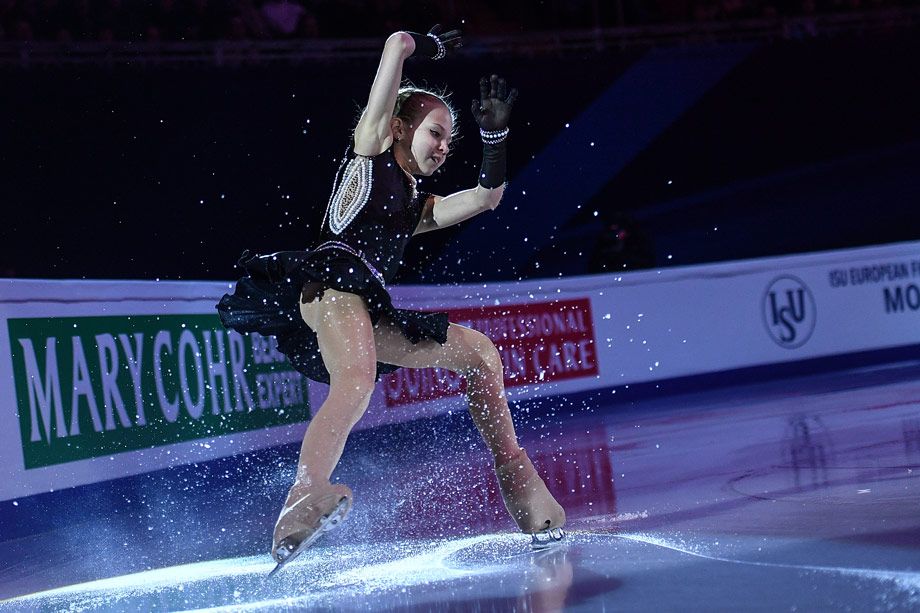 Alexandra Trusova
Photo: RIA Novosti
And the myth that she won't be able to land the quad-salchow cleanly, Sasha debunked in the final of the Russian Cup among juniors. At the same time, I added a quadruple sheepskin coat learned in three days in December. Then she fell off him, but already at the junior world championship she performed both quads cleanly.
So at the age of 13, Alexandra Trusova became a living legend. And this legend every year more and more shakes our imagination.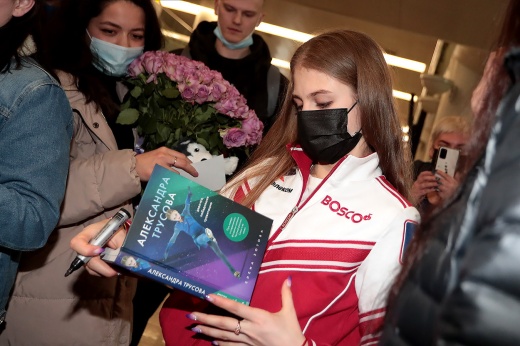 We are proud to live at the same time as you. Fans moved Trusova to tears!
Failed Trixelist, Grand Quadist
Sasha also successfully learned the quadruple lutz and the quadruple flip and performed cleanly at the competitions. I didn't have a chance to try out only a quadruple loop in front of the judges. But successful attempts at training and obvious talent leave no chance of doubting that this peak will also be submitted to her.
Another thing is the very triple axel, which, with its rebelliousness, opened the way for Sasha to quadruples. She continued to teach him, but to please the question, "How is he doing?" – Unfortunately, I couldn't.
The fact that the trixel is more difficult for Sasha than quads may seem unfair, but this trouble helped her grow into a great quad player. And all female singles – to move far ahead. Even foreign girls are already trying to learn quads. Few, with a creak, but they are trying. And this is thanks to a miracle girl with a long pigtail.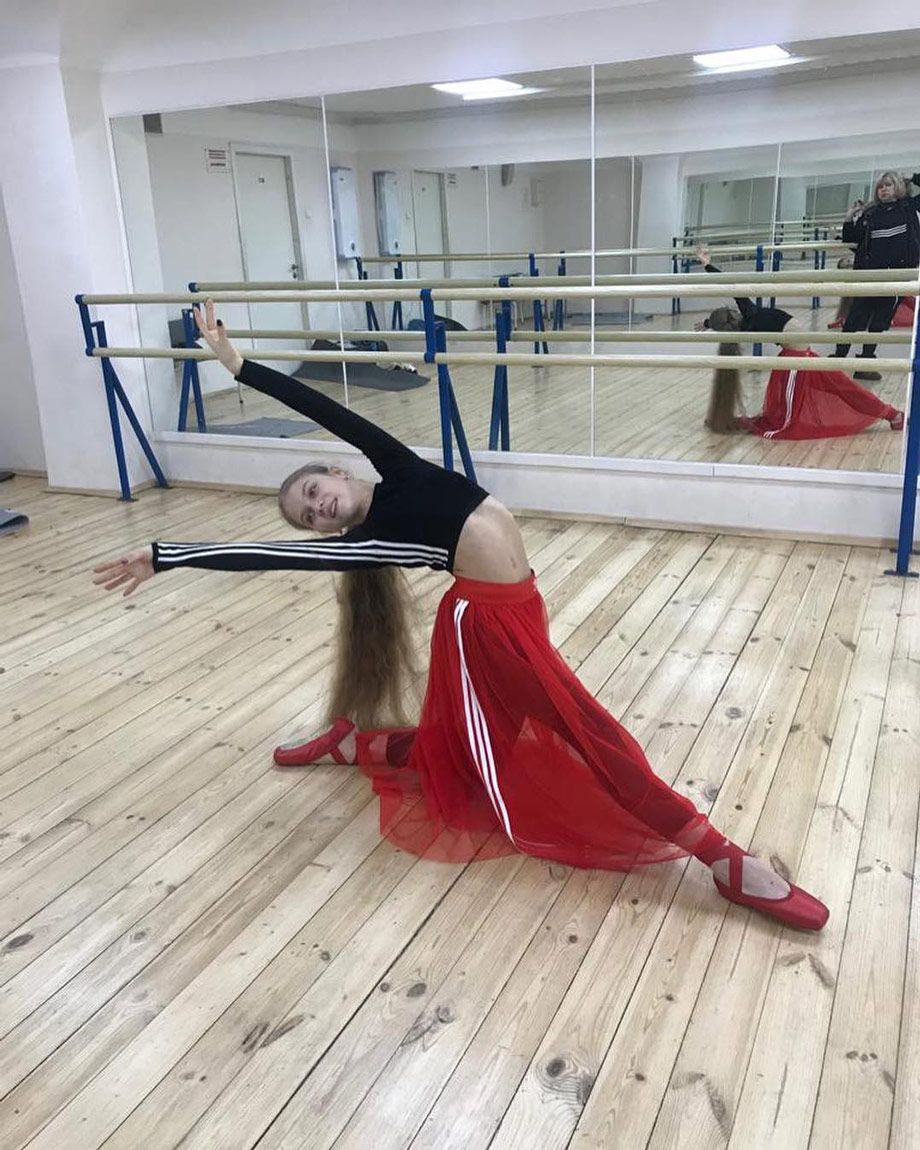 Alexandra Trusova
Photo: From the personal archive
But if Sasha had managed to master the three and a half jump at the age of 12, then it's not a fact that the era of quads would have come for the single skaters. Perhaps Sasha would have been considered the coolest trixelist and developed in some other way. She would not be scolded for sacrificing the artistic part for the sake of space technology. Would not cut components and would not require a balance of complexity and aesthetics. Yes, and other skaters would not have started to learn quads if there had not been a guide in the person of Sasha in front of them.
Trusova, with dizzying jumps, returned the mass audience to figure skating and drew attention to juniors. Who would remember today about junior competitions, if there were no quadist girls there? Thanks to Sasha, they appeared, and they are looked at. It's priceless.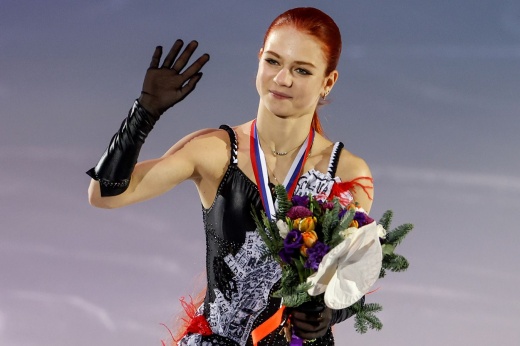 Thanks from a rock star and a message from a Hollywood actress. Who impressed Trusova?
18 years is not a sentence for a Russian rocket
In recent seasons, the whole world has been following with bated breath the adventure of a girl who wants to jump five quadruples in a free program. Sasha captivated with bold sports goals and attracted a bunch of fans with this alone. And she fulfilled her purpose. Like in a fairy tale, I landed all five quads in the right place at the right time. It is a pity that the award was no longer received according to fairy-tale laws, but according to the laws of harsh reality.
One can argue endlessly whether the triple axel prevented Sasha from winning in Beijing, but in any case, another turn took place in her sports fate. Perhaps even greater achievements await her behind him, connected precisely with the conquest of the insidious trixel. Elizaveta Tuktamysheva, after all, also did not immediately begin to light with a triple axel. She started teaching it as a teenager, and included it in content when she was 18 years old.
So Sasha still has everything ahead. 18 years is certainly not a sentence for the great Russian rocket.